Capsule wardrobes are amazing time savers and can even add a spark of style to an otherwise uncoordinated closet. Nowhere is this new approach to dressing more needed than in your kid's closet.
Think of all of those early morning rushes to get out the door. That's how our story started. I had to leave for work while my husband and toddler boy were still sleeping. So my husband, whom I'm pretty sure has never even used the word "outfit" before (and incidentally who doesn't know the difference between a sweater and a sweatshirt…), was expected to dress the kid. I think you can see where I'm going with this. To make things easier on him, I decided to limit Thomas' wardrobe to just a few colors that could effortlessly be paired with one another.
The system worked and I've loved the freedom it gives us. I don't have to put so much time and energy into buying clothes for my children and we don't have to dig through piles of clothes in the morning to find a shirt that matches some crazy electric green pants. Instead, I shop for their clothes twice a year. Once for cold weather months and once for warm weather months. Done! And if I see a need for another pair of sweatpants or I come across a good sale somewhere, I can easily pick out the color and style that will fit into his existing rotation of clothes.
Here are some tips for creating a capsule wardrobe for your own little ones.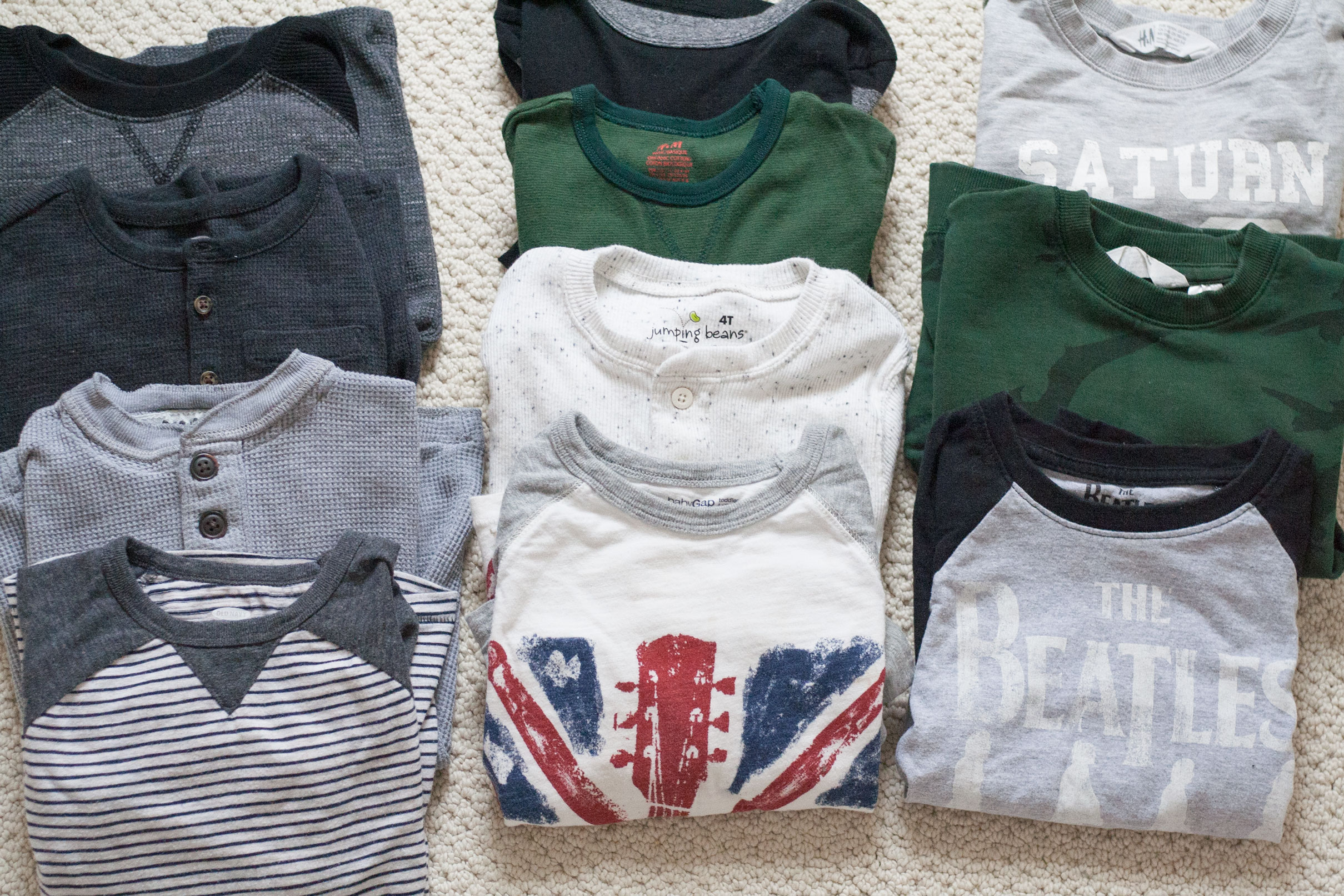 PICK A COLOR PALETTE
This season, my son's wardrobe is centered on:
GREY
BLACK
TAN
NAVY
FOREST GREEN
BUY USED
To make things even easier, I usually buy all of my kids' clothes at one place: a local children's consignment store. The store separates items by size, item (tops, pants, shorts, dresses) and then by color which makes my life so much easier.
When I go in, I bring our older, outgrown clothes to sell. I usually make about $50, which I apply to that day's purchases. While they are processing the lot to sell, I head straight to the size's aisle I need. Then I can zero in on the colors we picked for his wardrobe that season.
I look for brands like:
BABY GAP
OLD NAVY
H&M
OSH KOSH
POLO RALPH LAUREN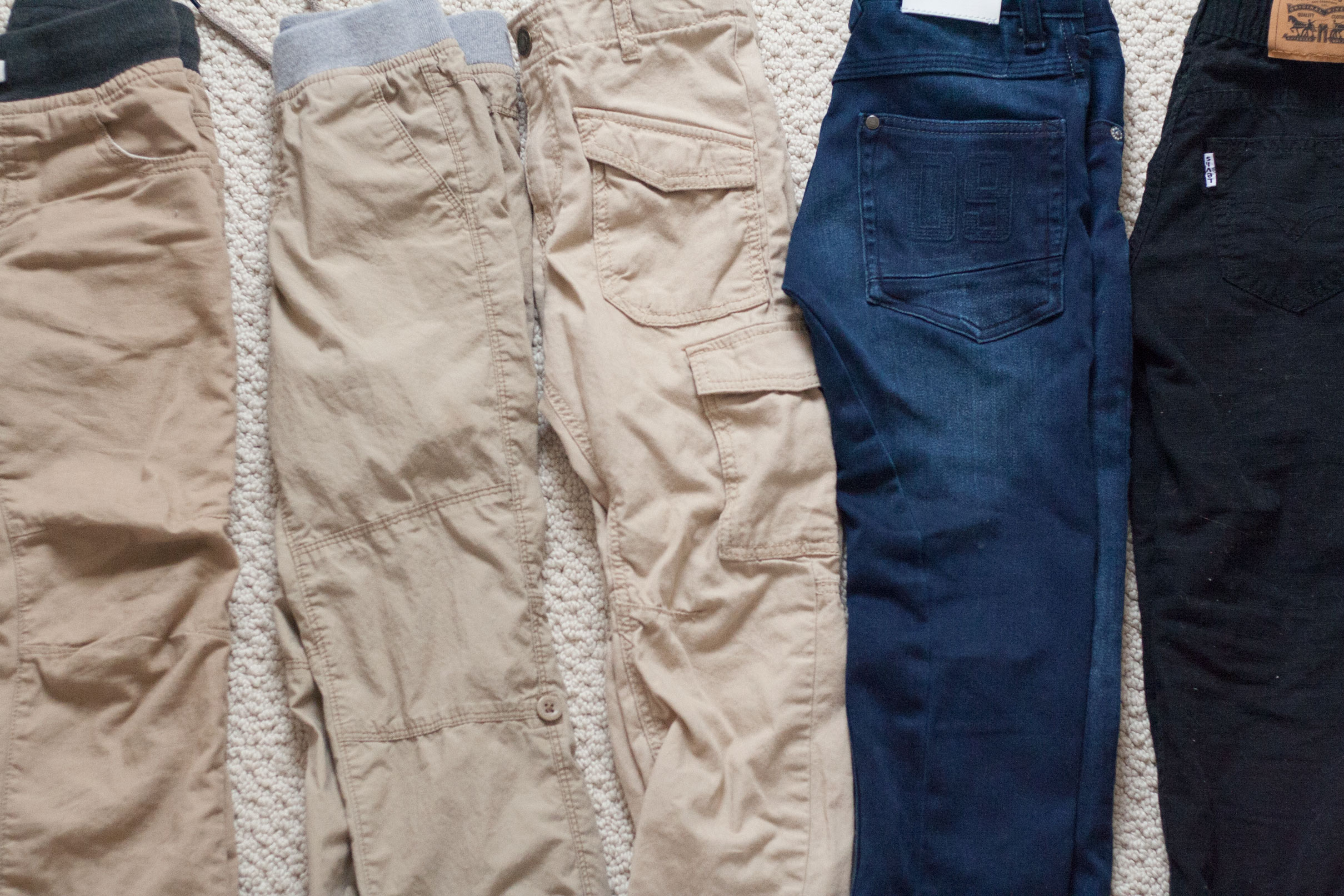 GOOD QUALITY BASICS
Look for classic styles in durable fabrics. For my son's fall and winter wardrobe that means:
SHIRTS (7)
LONG SLEEVE POLO SHIRTS x 2
LONG SLEEVE TEES x 2
THERMAL HENLEYS x 3
SWEATERS (4)
CHUNKY KNIT SWEATERS x 2
LIGHTER SWEATERS x 2
BOTTOMS (7)
TAN CARGO PANTS x 2
TAN KHAKIS x 1
DARK WASH JEANS x 1
SWEAT PANTS (NAVY, GREY, BLACK) x 3
OUTERWEAR
THICK HOODED SWEATSHIRT x 1
WARM WINTER COAT x 1
KNIT BEANIE x 1
MITTENS x 1
SHOES (3-4)
TAN LEATHER-LOOK SHOES
SNEAKERS OR CANVAS SHOES x 1-2
SNOW BOOTS
These numbers are approximate and might be more or less than what your child needs depending on how worn their clothes get and how often you do laundry.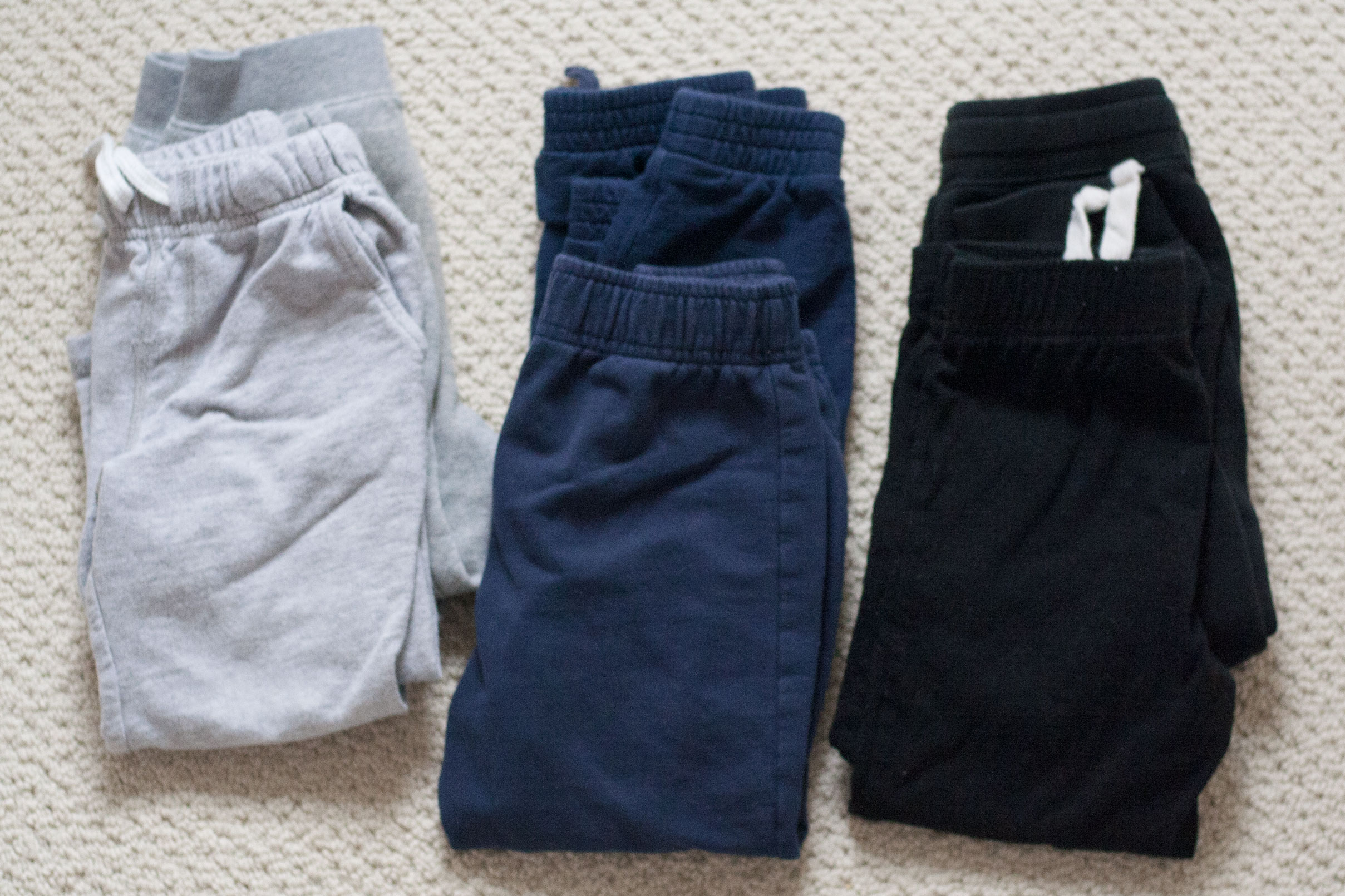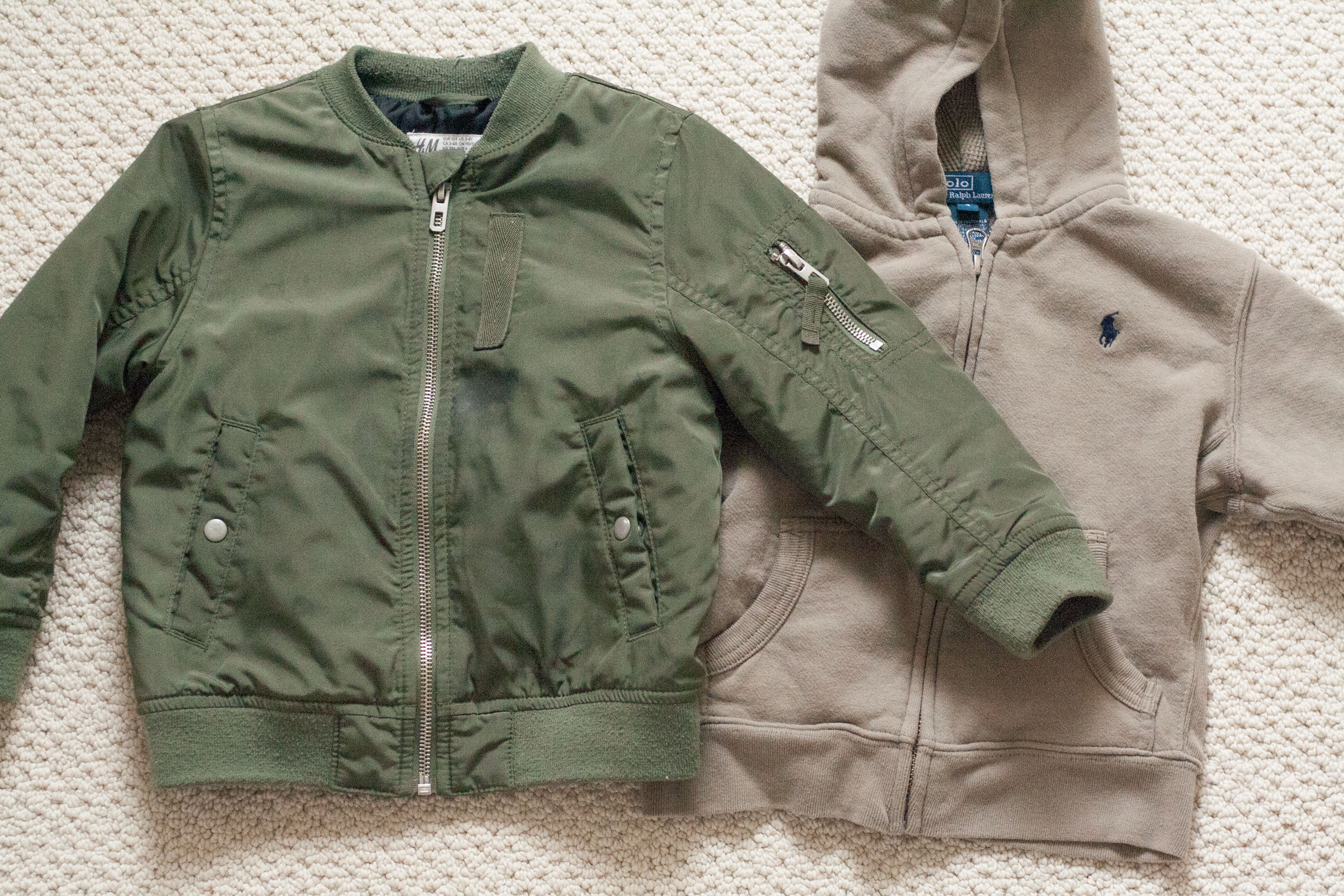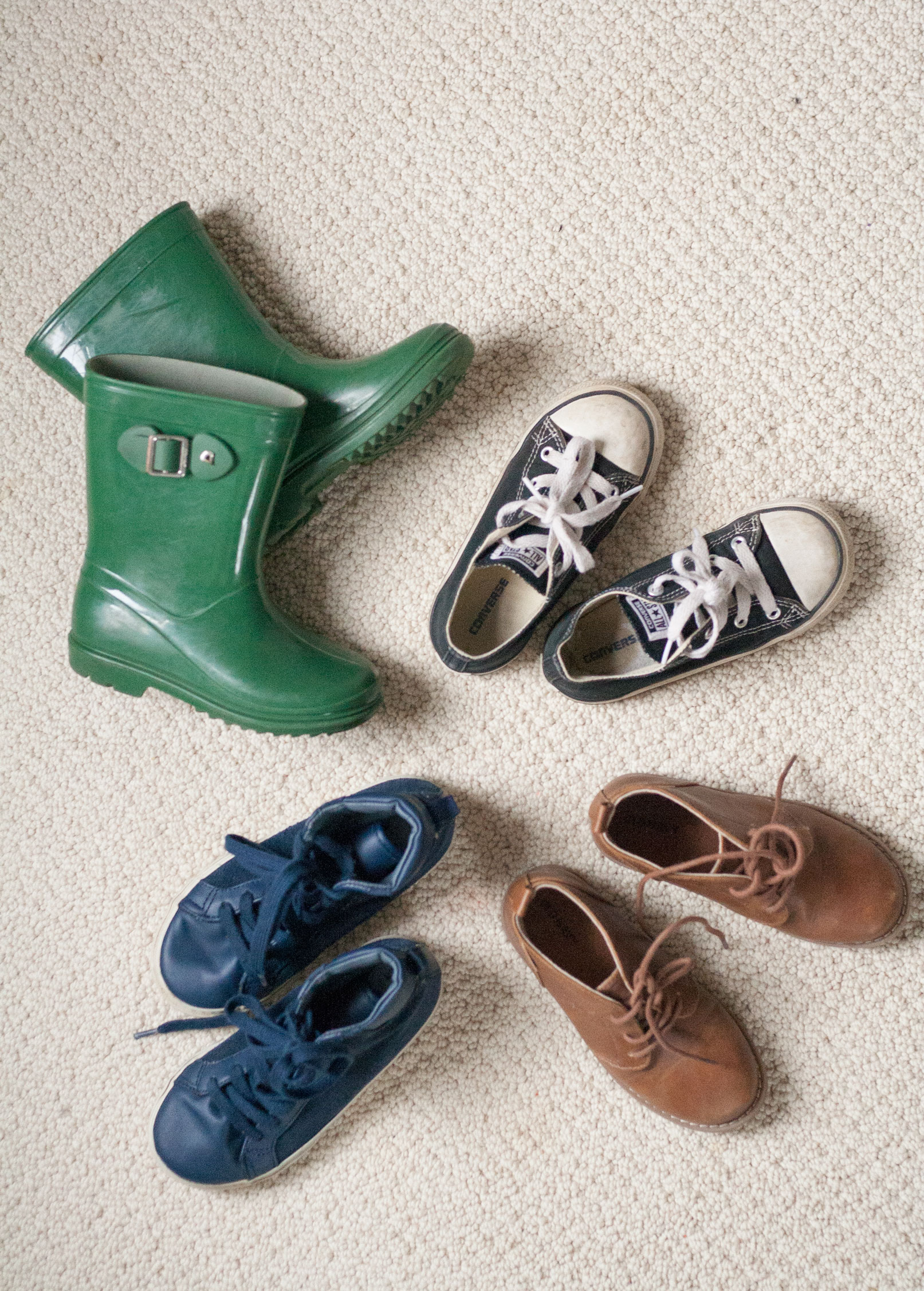 NEW PAJAMAS
Even though I buy most of my kids' clothes used, pajamas are the exception. Pajamas get so worn out that they usually aren't in good condition when buying used. Our favorite pajamas are available on Amazon in a range of simple colors. Two to three pairs is plenty for our lifestyle.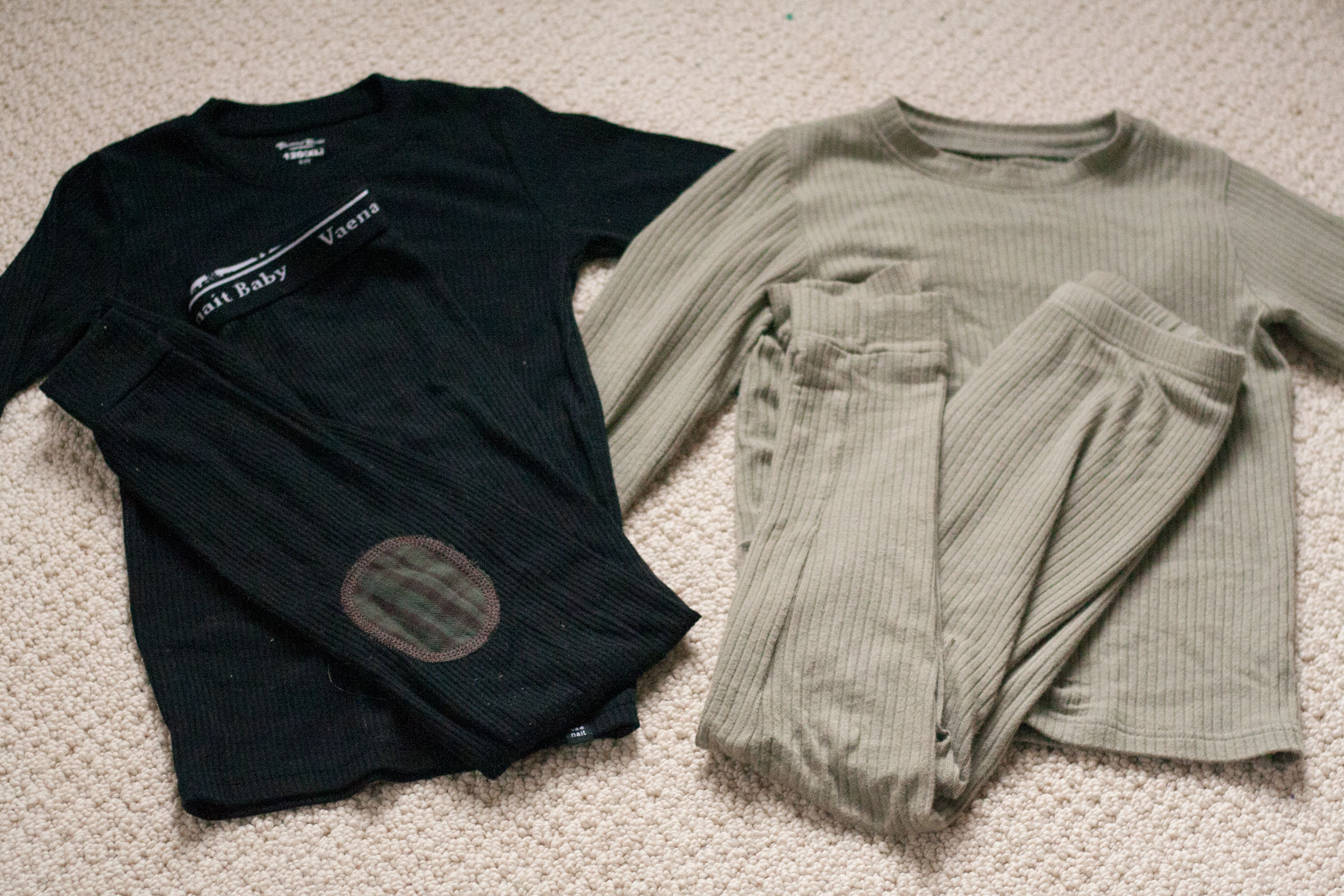 I hope these tips help you to put together a simple capsule wardrobe for your little one. Look for updates to this series when the weather turns warm! I'm planning on sharing our new capsules twice a year.
BUT WAIT!
THERE'S MORE!
BONUS NEVER BEFORE SEEN CANDID CELL PHONE PICTURES OF THESE CLOTHES IN ACTION!