Essential cozy clothing items for postpartum nursing moms.
This collection of basic, post pregnancy clothes includes all of the essential clothing items for nursing and recovering during the first few months after giving birth. Beyond sweats, these are basics that you can wear comfortably all day long, but still look put together in case a well-meaning visitor stops by unannounced to see that sweet newborn baby.
TANKS
**Nursing mom tip! You can make almost any top nursing friendly if you wear a nursing tank underneath. Sweaters, swingy blouses, and basic tees can all be rolled up above your chest, while you have the nursing tank underneath to cover your midsection while nursing.
GILLIAN OMALEY NURSING TANKS:: Solid, good quality and comfortable nursing tanks. These are by far the best basic nursing tanks out there. I picked up three, since they are a staple in months following birth.
JESSICA SIMPSON NURSING CAMI:: Slightly more dressed up, these Jessica Simpson Nursing Tanks have a more flattering v-neck shape trimmed with a bit of lace. They also come with lightweight removable pads to conceal leaks and whatnot.
TOPS
SAVI MOM NURSING TEE:: This is my favorite basic nursing tee. Of all the silhouettes nursing tees come in, like the tulip style and the life-up second panel (do those have a name?), this shirt available on Amazon was the most flattering and stylish. It's held up well too.
PINK BLUSH NURSING TOPS:: The nursing-friendly tops from Pink Blush are far more stylish than your basic nursing wear. Plus, they are usually wearable during and after pregnancy. Most of the tops on their website are modeled on both pregnant and non-pregnant women so you can get a sense of how an item will fit.
OLD NAVY OPEN CARDIGAN:: A long-line open cardi is a must have for any nursing mom. The silhouette is very slimming over a nursing tank and they dress up an outfit while keeping you warm and cozy.  I like Old Navy's Open Cardigans because they are affordable, durable, and they come in tall sizes! Go with a lightweight version for warmer months and a heavier knit for winter.
BOTTOMS
KINDRED BRAVERLY LOUISA MATERNITY LEGGINGS:: You will probably be able to comfortably continue wearing your go-to black maternity leggings for many weeks after giving birth. If you had a C-section, like me, these are ideal as they go up above the incision, which shouldn't be bothered by waist lines while healing.
HOMMA SLIMMING COMPRESSION LEGGINGS:: These are very comfortable and provide shaping to hold in a wobbly postpartum belly while everything is shrinking back into place. They come in multiple colors and shorts too for warmer weather. I held off on wearing these slimming leggings until after my c-section incision was healed.
OLD NAVY HIGH RISE ROCKSTAR JEANS:: Because they are super comfortable and the high rise holds in your postpartum belly without digging in. Plus, they are usually available on sale at a great price, so you can order your current larger size, even if you plan on shedding some of the baby weight and buying smaller jeans down the road.
DRESSES
BEACHCOCO NURSING MATERNITY MAXI AMAZON:: I wore this ultra-comfortable dress up until the end of my pregnancy and then for months after. The maxi length gives you that "I just came from a charming event" look whilst camouflaging your still-puffy belly and thighs. The deep V-neck pulls down for an impromptu nursing sesh.
KINDRED BRAVERLY ANGELINA MATERNITY & NURSING NIGHTGOWN DRESS:: Okay, so this dress is actually a nightgown but it's sturdy enough to wear as a dress both around the house and out and about. It's nursing friendly and modest enough that you can wear it around company too.  I've seen where many women opt for this as their post-delivery attire instead of a hospital gown.
PAJAMAS
SAVI MOM NIGHT GOWN:: A well-made, comfortable nursing night gown. Even if you aren't a night gown kind of girl (I'm not), these are nice to have after a C-section since you want to avoid any waistbands digging into your wound.
LOUNGE
GILLIAN & O'MALLEY JOGGERS:: Somehow or another joggers manage to make loungewear a little more fancy than those flannel wide legs. This pair, available at your friendly neighborhood Target, feel as luxe as joggers three times their cost.
GILLIAN & O'MALLEY SLEEP TUNIC:: Super soft and coordinates with the cozy joggers listed above so you look coordinated even if you've spent the day laundering and feeding baby. Wear over a nursing tank for coverage.
ACCESSORIES
SLIP ON SHOES:: Because you probably won't enjoy bending over after a C-Section. Even if you didn't have a surgical birth, slip on shoes are perfect for when your arms are full -which is all the time with a newborn.
OLD NAVY PLAID SCARF:: During the cooler months, dress up your basic nursing tank-leggings-cardigan outfit with a cute scarf. It doesn't interfere with nursing and it will keep you warm too.
BRAS & UNDERWEAR
LE MYSTERY SEXY MAMA NURSING BRA:: By far the best nursing bra…ever! But, this is coming from someone who loves underwire bras. This quality bra gives plenty of lift and it looks pretty too. I nabbed one in each color for half-price at Nordstrom but they are also available on Amazon. To nurse, simply unlatch and fold the cup down twice.
BRAVADO BODY SILK SEAMLESS NURSING BRA:: If you're looking for a good wireless nursing bra, this seamless number is very comfortable yet still supportive.
 KINDRED BRAVERLY HIGH WAIST UNDERWEAR :: If you've had a C-section, these higher rise undies will go up, over your incision line. They are super soft and the nude lace trim makes them a bit prettier than your basics.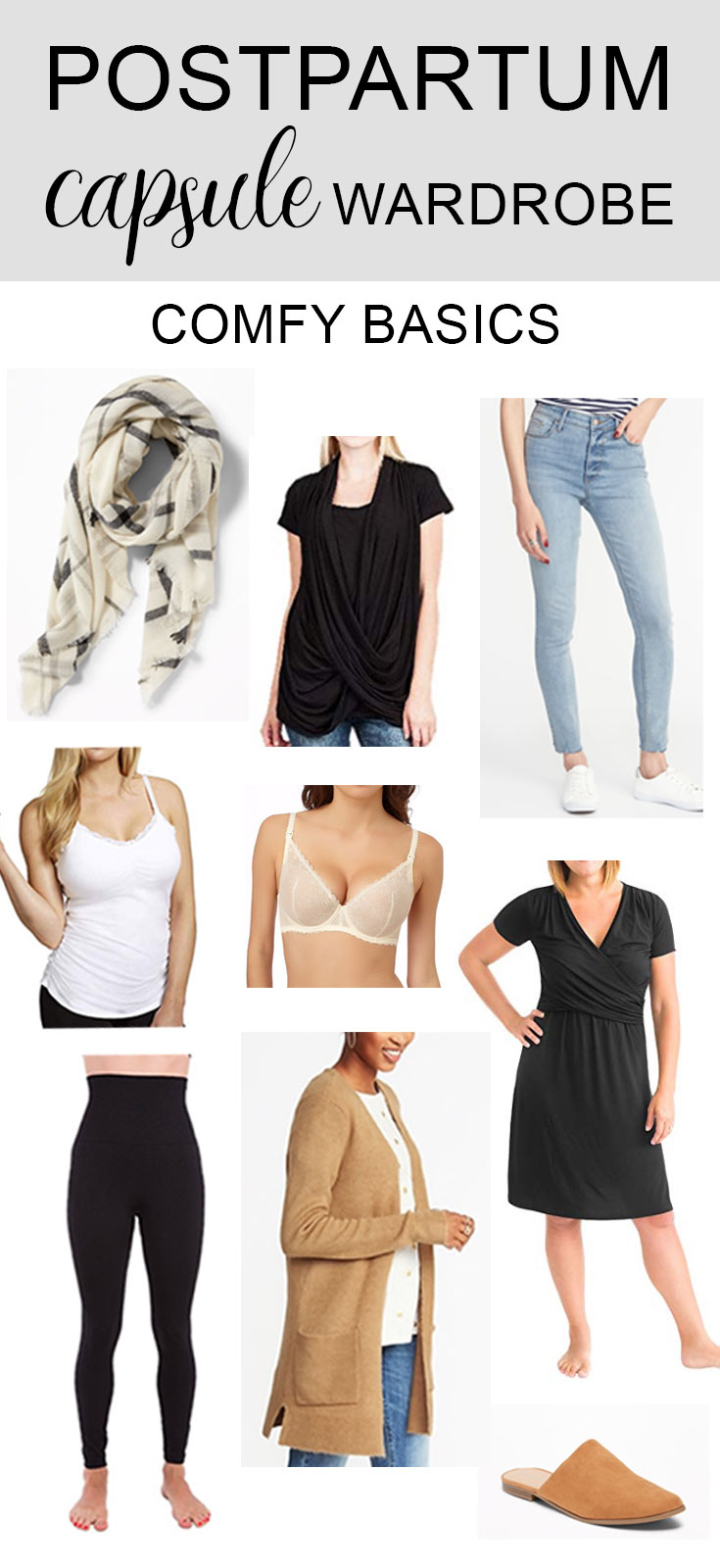 This post contains affiliate links to items I love.  If you are interested in an item and use my link to make a purchase, I will receive a small commission at no cost to you. Thank you for your support!