Recently I shared how I put together a capsule wardrobe for my 3 year old son. I've been using this minimalist clothes buying system for a few years with him so when my baby girl came into the picture, I figured I'd do the same for her.
The idea is simple: streamline and coordinate your kid's wardrobe so that you shop less and stress less over what pants will match which shirt, etc. etc.
For more detailed information on how I put together a capsule wardrobe for kids, check out my post LITTLE BOY FALL WINTER CAPSULE WARDROBE.
Right now, I'm going to assume you've already read that post and so I will spare you the redundancy of rehashing every single detail and jump right into the good stuff. The cute little girl stuff!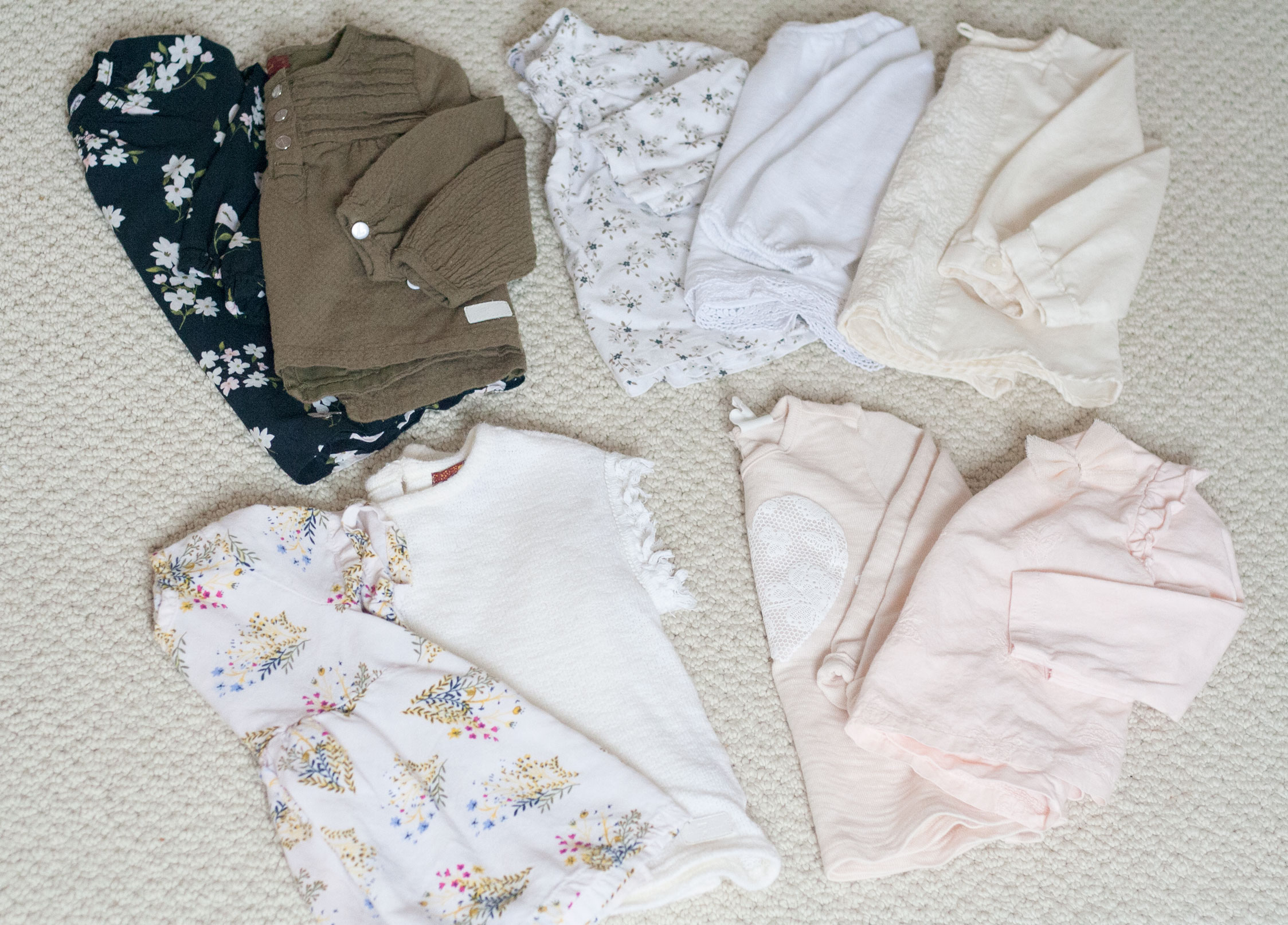 PICK A COLOR PALETTE
For Elsa I went with cream, white, tan, grey, blush pink, sage green, and black. Try to picture a few "dream outfits" for your baby. What colors do they feature? Is it dark and sophisticated navy blues, emerald greens, camel and plaids? Or maybe it's hot pink, turquoise, and coral with beachy patterns a la Lilly Pulitzer. Whatever your chosen look, start with a few key colors and then add in a some accent colors in smaller doses. 
PATTERN PLAY
Go for a mix of solid colors and pretty patterns that feature your color palette. As you can see in the photos, I went with a lot of small floral prints, but for a bolder look, try stripes, polka dots, plaids or even paisley. A cool trick for helping determine the color palette for a capsule wardrobe is to first select a patterned piece that you love and then add in solid colored pieces based off of the pattern's colors.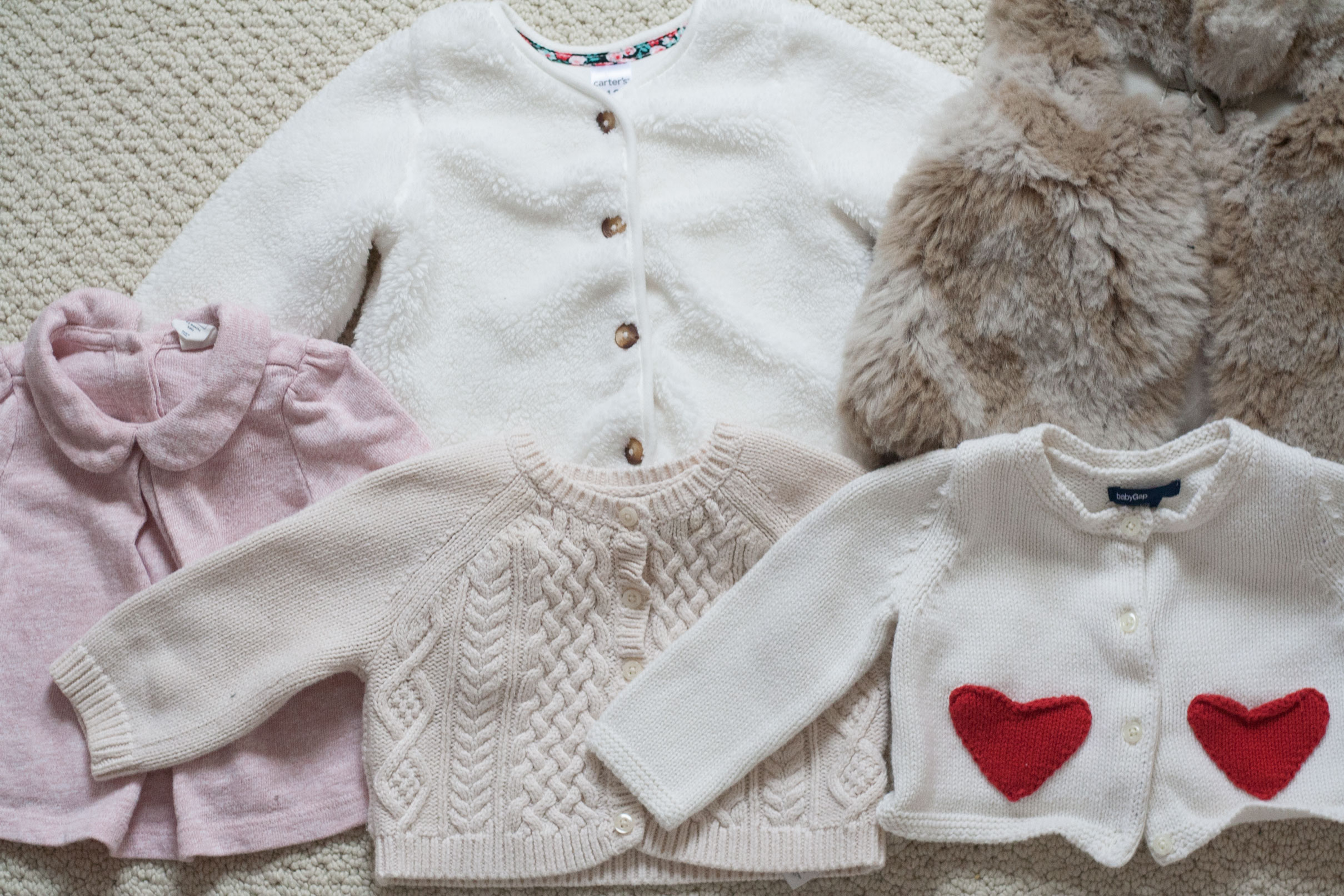 LAYER IN TEXTURE
Instead of buying clothes covered in words and illustrations, I buy mainly solid color clothing. To make things interesting, I buy clothes with lots of different textures. Think ruffles, cable knits, nubby tweeds, ribbed stretchy leggings, silky tops, etc. Even buttons add an additional element of texture!
CONSIDER YOUR LIFESTYLE
While my heart yearns for all of those frilly baby dresses, my head assures me that those simply are not practical for our rather boring lifestyle. If, like us, your baby doesn't attend fancy events and parties all the time, look for comfortable clothes to romp around in and limit yourself to just a few dressier outfits for the holidays.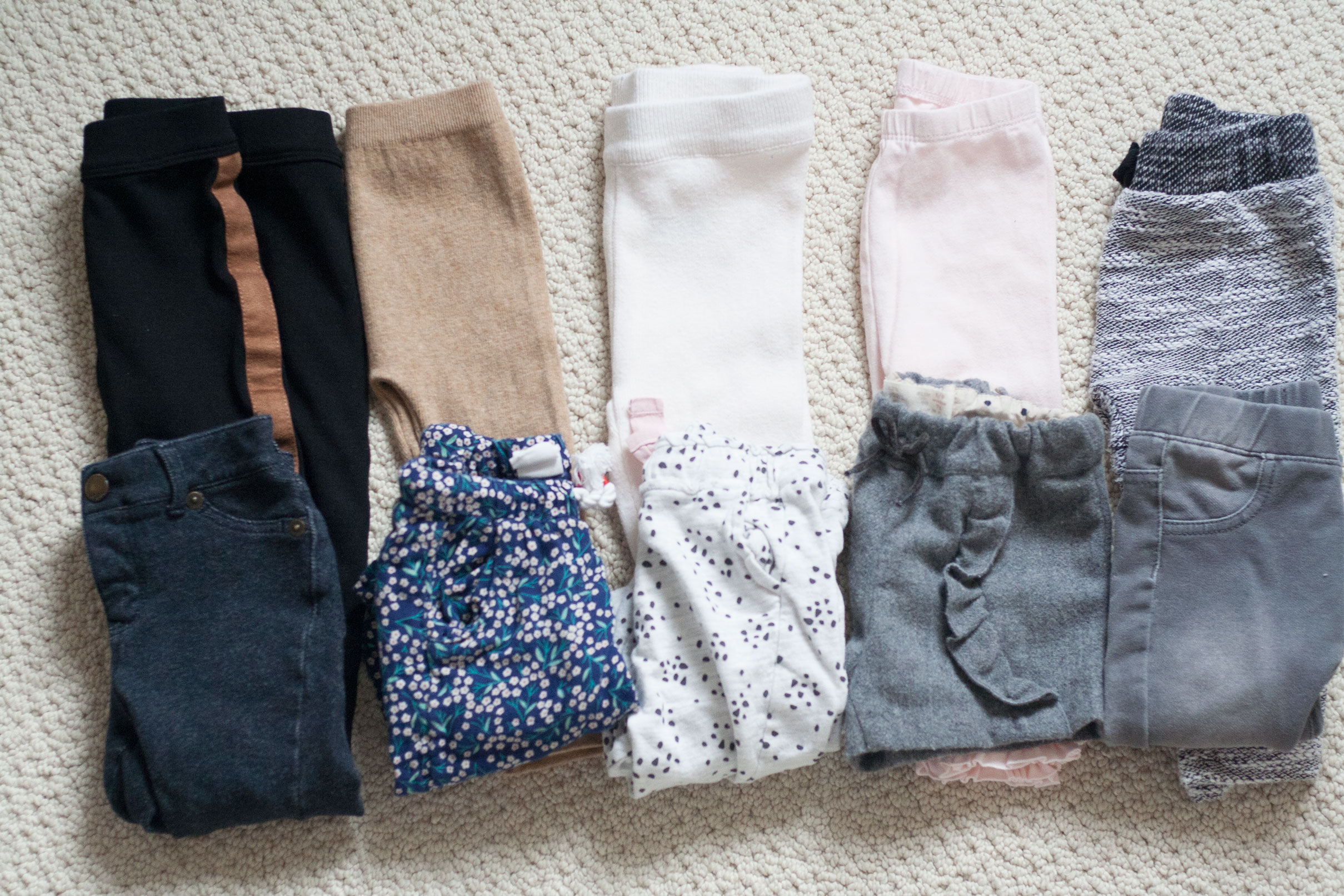 PRACTICAL CAN STILL BE PRETTY
Look at the clothes in these pictures for examples of what I like to call "elevated basics". Go for standard items like shirts, cardigans, and leggings, but pick ones that have nice colors, materials, and little extras like bows, lacey colors, and ruffles. All of these items are comfortable for her to move around in, they keep her warm, and they look adorable to boot!
ACCESSORIZE
Speaking of boots, we would be nothing without these Zutano booties. They stay on her kicky little feet for long periods of time and keep them toasty warm. Plus because she isn't walking yet, I hardly ever have to wash them. You could really get away with only having two pairs and foregoing socks altogether.
Next, it's time to gild the lily with some baby bows. Add in a few flower headbands or baby bows to take your little girl's look to the next level of cuteness.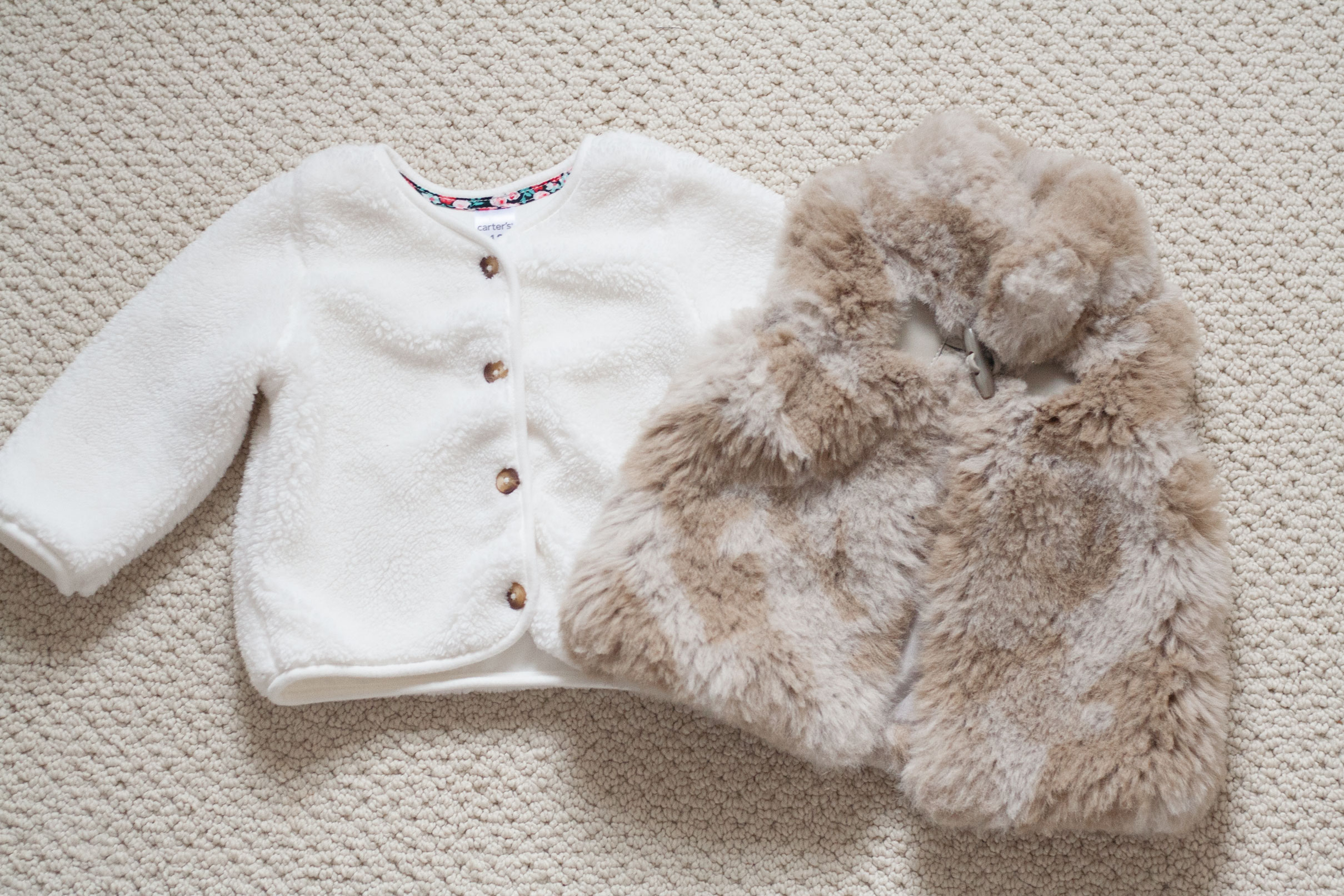 OUTERWEAR
Look for a neutral colored warm jacket like camel, cream, or black so that one coat complements the whole wardrobe. I like how this sherpa jacket can be worn more like a thick cardigan rather than a parka. If you plan on having your baby out in the snow frequently, you might want to add in a waterproof jacket, but for our family, this soft, snuggly coat was all we really needed. For car trips, a carseat cover like the Cozy Cover or a thick blanket over the seat belt (not under) is safest for babies anyway.
BRANDS TO LOOK FOR
A few of my favorite brands to look for, whether new or used, are: H&M, Zara Baby, Old Navy, Baby Gap, Janie and Jack, Cat & Jack from Target, and Genuine Kids from OshKosh.
LOVELY LEGGINGS
While most of what we buy is used, I am over the moon with these ribbed leggings we got from Silky Toes via Amazon. They are very stretchy and the material feels warmer than basic thin cotton leggings. They come in a rainbow of lovely colors too. I went with camel and mauve for Elsa.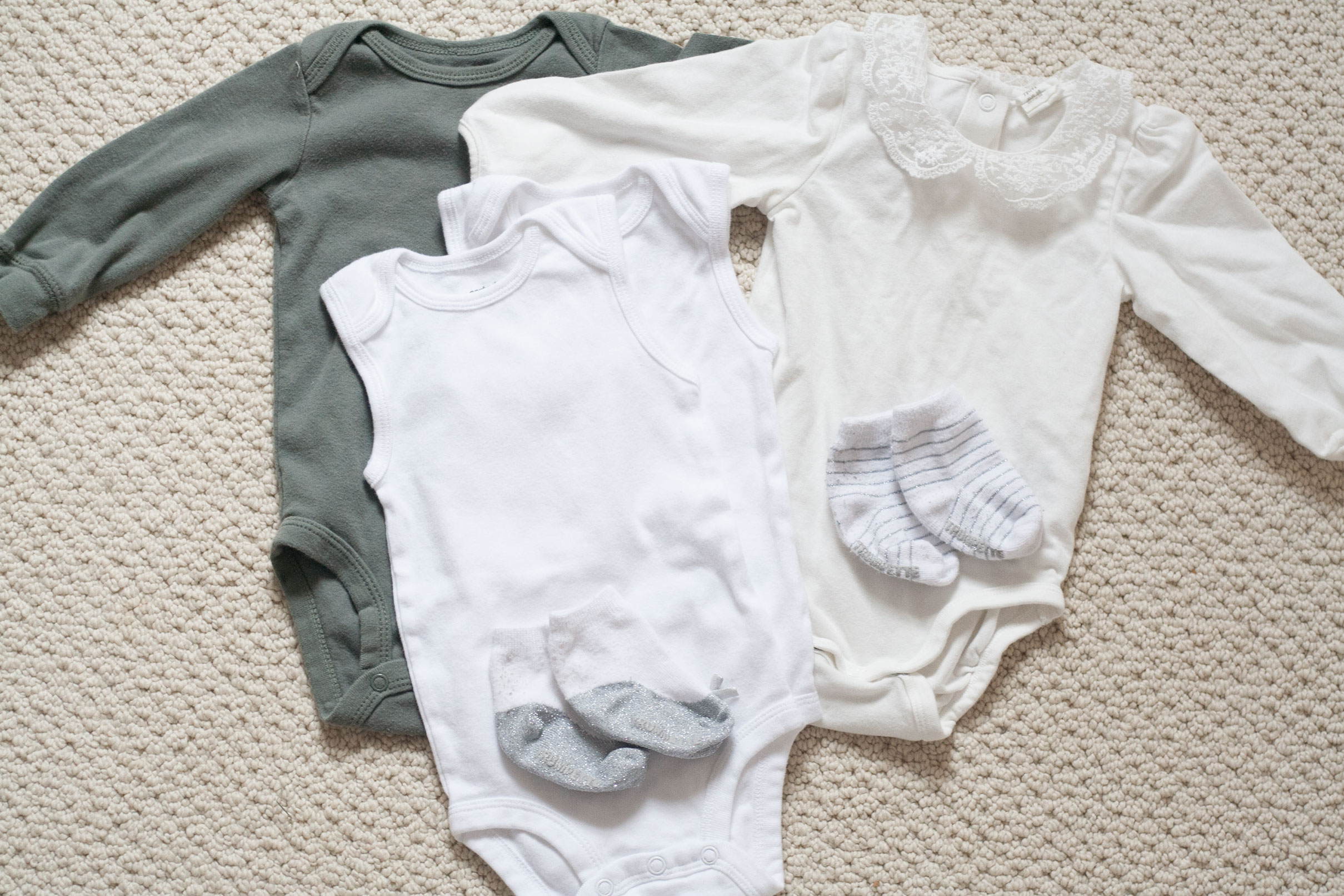 BASE LAYER
Another item I buy new for Elsa are plain white sleeveless under-onesies. Ours are from the Carter's brand and they fit true to size. They are relatively inexpensive and they serve two purposes. First, to add an extra layer of warmth to my baby's outfit and second, they protect the rest of her outfit from those violent diaper blowouts. You know what I'm talking about.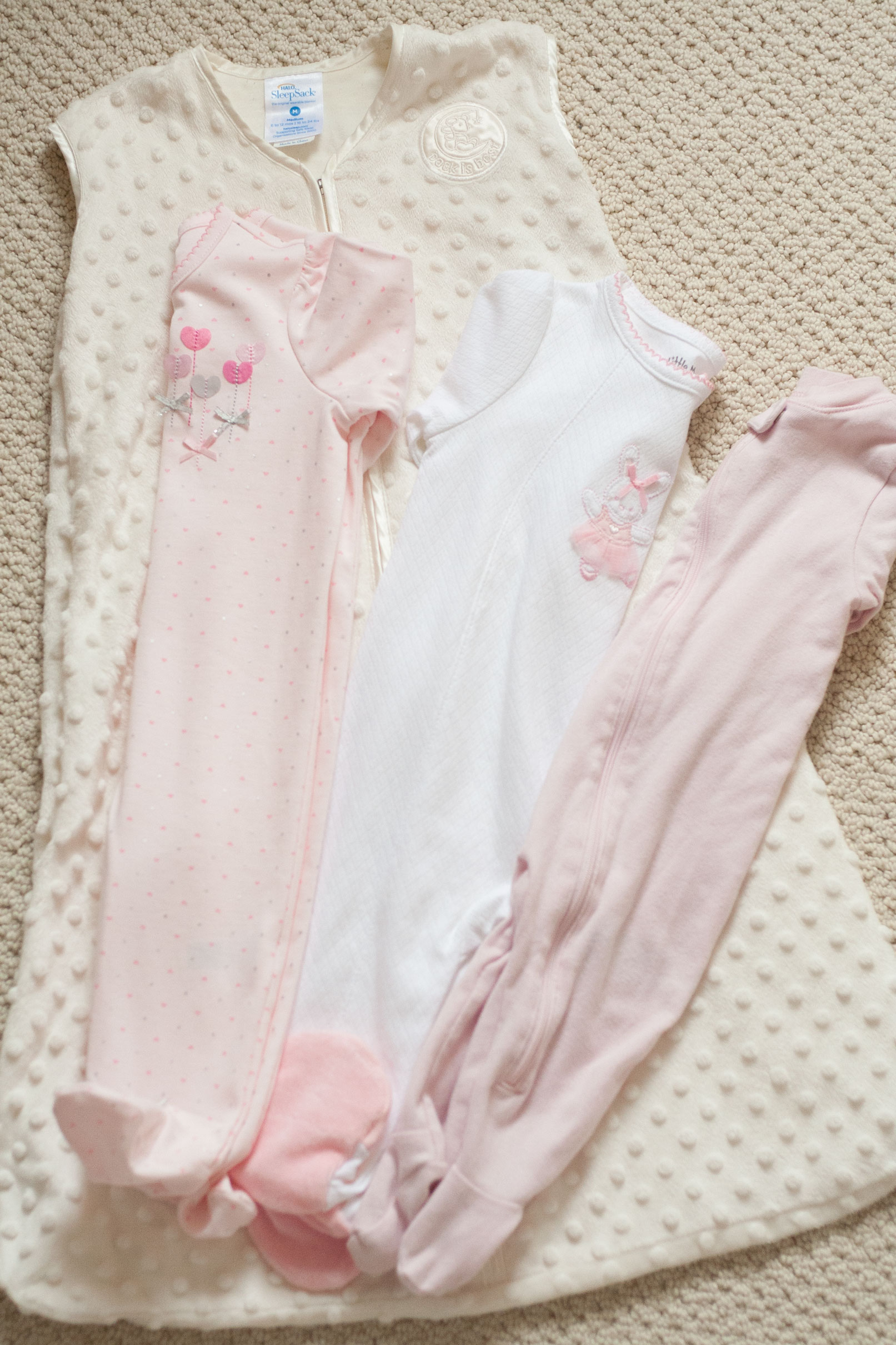 SLEEPWEAR
Lastly, buy pajamas new, not used. I usually don't have much luck finding used baby pajamas in good condition because they are the most frequently worn items. Spring for a few new pairs everytime your babe outgrows her ones. I'm a fan of Old Navy's zippered sleepers (look for the 40%-60% sales) or these adorable jammies for toddlers from Amazon.