I have a special affinity for products that not only do their job, but actually make life easier.  Now, all of these items are not really bare-bones essential to have like a car seat, diapers, and a crib, but they sure made my life easier, and for that, I am so very grateful.  In no particular order: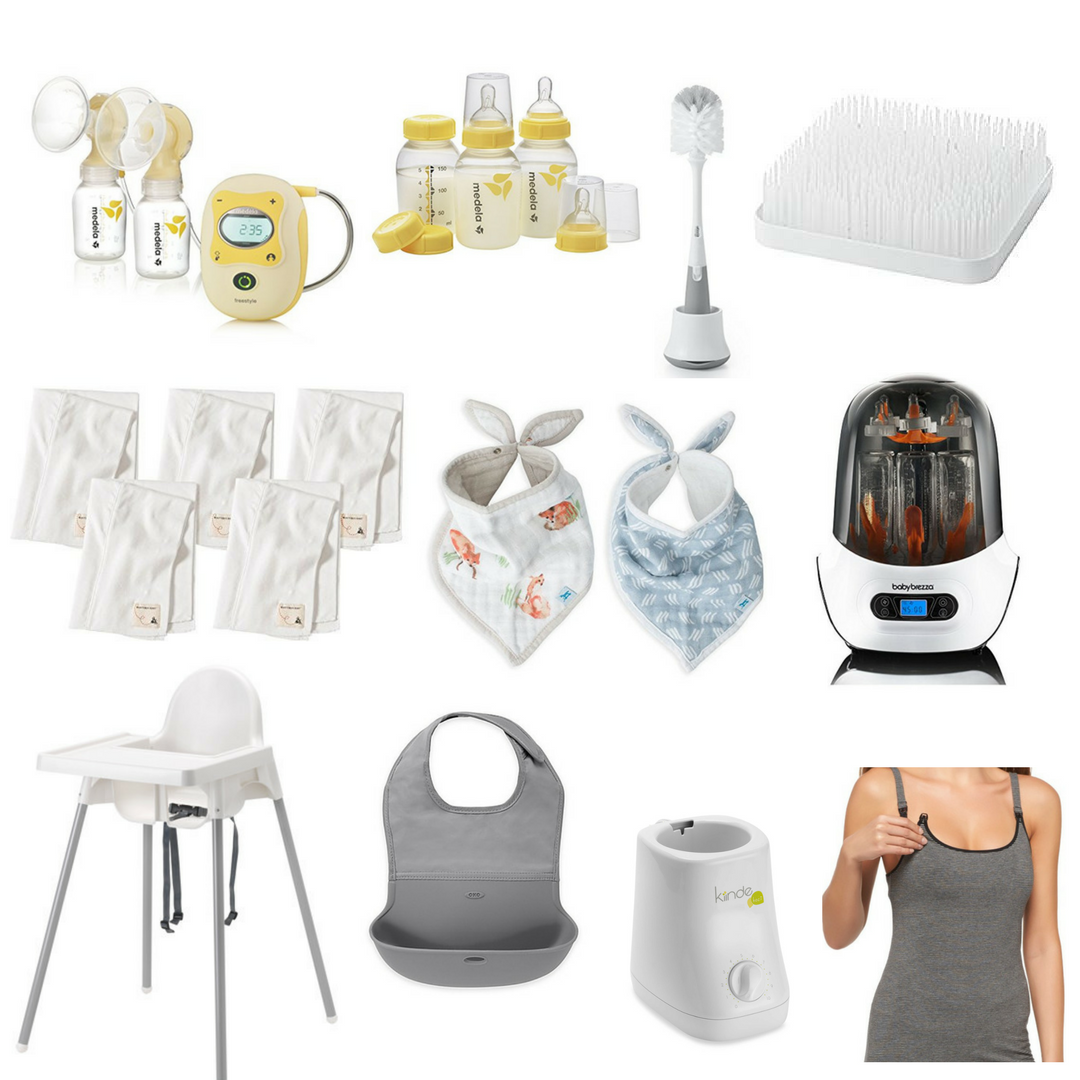 FEEDING
BREAST PUMP
If you plan on breast feeding, I highly recommend getting a breast pump. Even if you aren't leaving baby to go into the office, the pump helps to keep your milk supply up and you can start a small stockpile of milk and freeze it for when you go out sans baby. My Medela Freestyle was provided to me free of charge through my insurance carrier and I really liked how small and portable it was. Plus it ran on rechargeable battery power like a phone, instead of needing to be plugged into an outlet while pumping.
BOTTLES
We went with the Medela bottles that fit my Medela Pump.
BOTTLE BRUSH
'nuff said.
NURSING BRAS + TANKS
During the first few months, I lived in nursing bras and tanks from Target. The more structured nursing bras are nice to have when going out, but the soft ones are what I used at home. Even if you don't add these to your public registry, know to invest in a few yourself.
BURP CLOTHS 
Instead of fancy burp cloths, I opted to use simple, inexpensive, and super absorbent cloths. A real workhorse, these cloths cleaned up drool, dribble, spit up, leaks, spills, and just about any other messy baby issue.
ELECTRIC BOTTLE STERILIZER
There are a few options you have to clean baby bottles, pacifiers, breast pump parts, and the like.  I highly doubt anyone will be boiling a pot of water to sanitize in this day-and-age, but it is an option, as long as you verify that each product can stand up to that sort of cleaning. Another option is the dishwasher, although I'm unclear on whether that is actually a recommended way to sanitize your gear or not. The better methods include microwave sterilizing and electric sterilizers.  I went with the electric bottle sterilizer and I love it.  If you have the counter space for it, this thing takes the hassle and worry out of disinfecting feeding supplies.  Fill the basin with distilled water, replace the rack, creatively pile, stack, and hang items on the rack, replace lid, and let 'er rip. The other thing I love about this particular model is that you have the option to dry the items as well, which is not usually the case with electric sterilizers.
BOTTLE WARMER
If you use bottles to feed your baby, you're going to want a bottle warmer.  I find this to be especially true with breast milk, as I stored it in the refrigerator, where it was icy-cold, which is so not ideal for infants.  Through my research I discovered that the Kiinde Bottle Warmer was the best at protecting the nutrients in your breast milk.  Yeah, I bit.  And guess what? I loved it.
BOON GRASS DRYING RACK
The minimalist hidden deep down in me wants to say that this isn't really necessary, but I must admit that I have used this drying pad every single day since I brought it home, even now with my toddler's sippy cup parts. During the first year I would wash all binkies, bottles, and breast pump parts together and collect them on this drying rack until it was their time to be sterilized.
CLOTH BIBS
For absorbing drool and spit up. Otherwise your baby's neckline will look like they just got done running a marathon or worse. I went for some soft, absorbent ones and sprinkled in those cute banana- style bibs for outings.
SILICONE POUCH BIBS
When your baby starts eating solids, you really can't beat these pouch style bibs that collect that 90% of food that doesn't get swallowed. Baby Bjorn Soft Bib for home, OXO Tot Silicone Roll Up Bib for travel.
HIGH CHAIR
I didn't need a dedicated high chair until my son was over 6 months old and eating solids. We went with this extremely minimal and affordable Ikea Antilop High Chair.

CLOTHING
ZIPPERED SLEEPERS
Almost every new mother comes to realize that the only clothes she actually wants to put her newborn in are these footed zippered sleepers, which keep baby warm at night and allow for easy access during late-night diaper changes. While part of me just wants to shake you for even considering snap-up sleepers (don't do it, I beg you), I know there are a few people out there with the patience to snap up every. single. snap. and not want to punch a hole in the wall.
SIDE SNAP SHIRTS
For the earliest new born stages, I loved lightweight side snap shirts for my summer baby. This made changing a fragile newborn much easier than trying to force a shirt over their wobbly heads. Later on, the basic bodysuit (aka onesie) paired with simple cloth pants or shorts was all we really needed.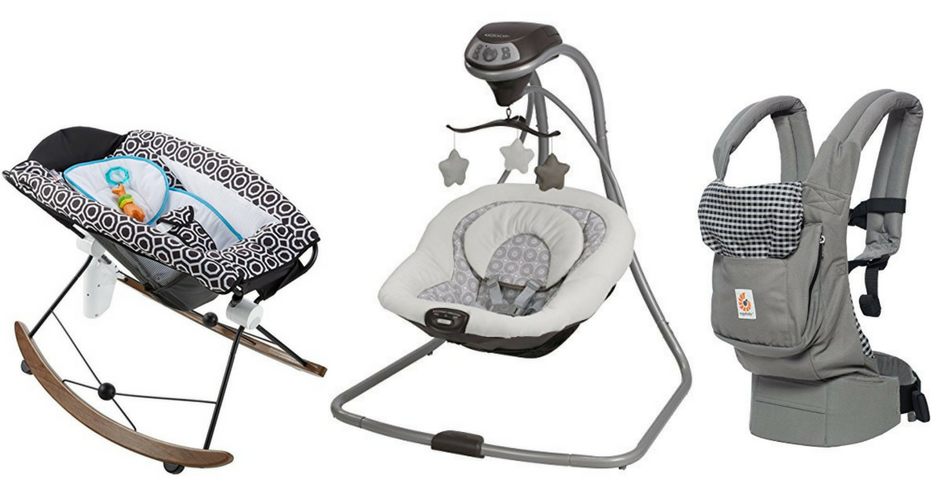 LOUNGING
This category of items is tricky because baby holding devices like swings, bouncers, rockers, and seats (including infant car seats) are a godsend when you just need to put your baby somewhere so you both can rest. But the position of babies in these items can interfere with healthy growth and development. I know this is sad and shocking but the best place for babies is a flat, firm surface where they have freedom of movement and can stretch and get to know the reality of gravity. Just be mindful of how long babies are kept in these semi-upright seats – that's all!! I've heard that 2 hours a day is recommended and no overnight sleeping.
I swear I'm not trying to stop you from living your best life. We still cool?
SLEEPER-ROCKER
We had a "rocking" bassinet that came with our travel play yard but it was so terrible at rocking that I mainly just used it to place my son in if I needed to do dishes or whatnot, which was still very useful!
Fisher Price has the lion's share of the market on these with their signature Rock n' Play, but there are plenty of options out there. If you spring for the auto version of the RNP, it might even replace the need for a swing.
BABY SWING
I've heard legend of infants who have not instantly been soothed by an electric swing.  I have yet to meet one though.
BABY CARRIER
I used my Ergobaby Original carrier daily, not only to get things done around the house with my little one nestled safely on me, but also to take walks, especially on hikes in more rugged terrain.

SLEEPING
CRIB
Our Babyletto Skip Crib was discontinued but the brand has plenty of other really cute designs like this Lolly Crib.
MATTRESS
I splurged on our crib mattress and got this uber healthy Naturpedic mattress. I like that it is made nearby in Ohio.
WATERPROOF MATTRESS PAD
This Naturpedic Mattress Protector has held up very well for the past 3 years and has never let a leak past it.
SHEETS
I bought three Burt's Bees Crib Sheets in plain white and never looked back.
MUSLIN SWADDLE BLANKETS
Even if you don't use these for swaddling (many opt for swaddle garmets instead) these lightweight, breathable blankets are perfect for so many other uses from a car seat cover, to a nursing cover, to a burp cloth.  You can even lie it out on a floor for a safe place for baby to sit or do tummy time.  I've also found these to be the perfect towel for bundling my hair up after a well-deserved shower.
WEARABLE BLANKETS 
I put Thomas in a wearable blanket pretty much every night until he started walking.  Why?  Because I couldn't stand the thought of him shivering, blanket-less, in the middle of the night.  Now, that he is able to stand in his crib I worry that he will somehow trip over the sack, but I still long for those simple days of sleep sacks when I see him in the morning, blankets cast asunder, curled up in a little ball to keep warm.  My favorite during the first several months was the standard HALO SleepSack, but once he was a bit older I opted for the Baby Dee Dee.  If it's summer and you want a lighter version, they also offer the Baby DeeDee Lite.  We used and loved both.
WHITE NOISE
Since our son shared a room with us for the first year of his life, he got to listen to the sound of our ugly box fan every night (the cheaper the fan, the better the noise). But for travel and when he transitioned to his own room, I used the Dohm White Noise Machine.

HEALTH + SAFETY
COOL MIST HUMIDIFIER
The first time Thomas was really sick and congested we used a humidifier that we had already had pre-baby.  Several nights in, I was upset that he was still so congested.  Sitting by his crib I looked over to the humidifier and noticed that there was no billowy cloud of steam blowing toward my baby. A quick trip to google informed my that I had the totally wrong type of humidifier.  Lesson learned.  This Safety 1st 360 is pretty basic, super affordable, and readily available in Walmart.  It does not look like an elephant or a baby monkey like some fancy ones do, but it works and that's that.
NAIL CLIPPERS
As if by magic, baby nails grow at an astounding pace. Whether you prefer to file or clip, you are going to need something to trim those sharp little nails. I bought several inexpensive pairs of clippers and kept them stationed around the house and in our diaper bag so that I could trim at the ideal time: while baby slept.
BATH TUB
Babies don't really need to be bathed often in the first few months, so I opted for a super simple tub by Boon that folded flat for easy storage between baths and between babies.
SOAP
Dr. Bronner's Magic All-In-One-Soap in Baby Unscented is super gentle and can be used for so many uses beyond bath time.
SNOT SUCKER + SALINE
This NoseFrida kit from Frida Baby is all you need to loosen and remove snot from those sweet little noses.

DIAPERING
DIAPER PAIL
Living in a two story house where most diaper changes take place upstairs made a diaper pail essential for our family. We have and still use the UBBI Diaper Pail. What I like about it is that when it is closed you can't tell a small human pooped nearby.  Even in the height of my second pregnancy (with a sense of smell like a blood hound) I couldn't detect the smells until I actually opened the thing to drop another deposit in. Another great feature is that it works with standard trash bags that I buy in bulk (Kirkland Signature for the win!) instead of expensive custom liners.  The eco-conscious among us will appreciate their washable cloth bag liner option.
OXO TOT WIPES DISPENSER
OXO is a pretty amazing brand that comes out with well-though-out products and this baby wipes dispenser is no exception.  Not a warmer, this is simply a heavy duty baby wipe dispenser.  The genius lies in the one-touch-open which allows you to open the box by simply pressing on the top with one finger. Lord knows you're doing your best to keep a child safely on a changing mat with the other hand. Once the lid has opened, a plastic weight with a hole in the center holds the wipes down while allowing you to grab them one-at-a-time (tissue box style).  I keep ours in the top drawer of our baby dresser, along with the rest of our diaper changing supplies. This would make for a great gift, along with a stockpile of wipes.
DIAPERS
Obviously. We went the disposable route and tried just about every diaper out there. Our favorite was the Pampers Swaddlers because we rarely had a leak and for first time parents, the wetness indicator stripe is amazing. Later on, we started using the Target Up&Up brand with great success.
WIPES
My favorite wipes for the first few months are Water Wipes because they are so gentle. As with anything I like best, they do cost more (is it just me??) so we eventually switched to the much more affordable Kirkland Signature brand from Costco. Wipes from Amazon Elements are also affordable if you are a Prime member.
DIAPER RASH CREAM
We've used many, and they all work well. Honest Co., A&D Ointment, Boudreaux's, and Earth Mama Angel Baby to name a few.

TRAVELING
CAR SEAT
As I mentioned above, any seat with an incline is not ideal for healthy development of babies and this includes car seats, which really are the most essential of essential baby items.
Sooooo, you could just save some money and skip over the infant car seat/travel system, which they are only in for the first year or so anyway. This would cut down on the temptation to keep baby in the car seat for extended periods of time, because it is just so easy to carry your slumbering tot from the car to the grocery store to the restaurant and back home without ever taking your baby out.  In this case, just go right for a sturdy convertible car seat.
Of course, I didn't know these things back when I had my son, so we did get and love this GB Travel System. And, of course, we will probably be using this GB seat again with my second babe because money doesn't grow on trees, you know??
*LARGE CHILD ALERT*  If you have a bigger baby like us, don't even consider the Britax Click Tight Convertible. Just don't. By two years of age, my son was at the max for the straps but because it cost close to $400 I was determined to make it work even though I wanted to scream every time I tried to buckle the damn thing. The Diono Radian RXT is what we got as a replacement that can actually accommodate my gigantic kid.
BABY CAR MIRROR
When I first came across baby car mirrors, I thought they were pretty darn goofy.  But then I put my newborn in his car seat, and couldn't see his face. Was he sleeping? Was he smiling?  I couldn't tell! This simple contraption lets you see your sweet baby's face with a single glance in the rear-view-mirror.
STROLLER
At first we only used the stroller from our GB Travel System, which includes a regular stroller seat in addition to the car seat attachment option. For my son's first birthday I got him a new super lightweight umbrella stroller, the Quinny Yezz, which is ideal for traveling.  I keep it in the trunk of my car and we use it all the time!
DIAPER BAG
I used two diaper bags. The Skip Hop Dou in French Stripe (so cute!) and a really nice black leather Coach Diaper Bag I received as a gift.
TRAVEL PLAY YARD
If you plan on traveling at all during the first year, a collapsible play yard is a great investment, because it gives them a safe place to sleep. If not, you could just skip it, unless you want to let your baby "play" in it at home but there isn't a lot of room for movement in there…

ACTIVITIES
CRINKLE TOY
This crinkly cloth book from Fisher Price fascinated my son for months. I would love to get another for baby number two, although I'm not sure if this particular toy is still being made.  For sure, this adorable Skip Hop Vibrant Village Book is readily available and has even more fascinating bits to play with.
BOOKS
Those stout little board books are great to read to your baby. We especially liked the touch and feel books with fuzzy lambs and what not, and this 100 First Words book.
MEASURING CUPS AND SPOONS
Get some inexpensive measuring cups and spoons for hours of entertainment for baby.
SENSORY BALLS
The various textures, different sizes, and different colors of these little balls are great for developing minds!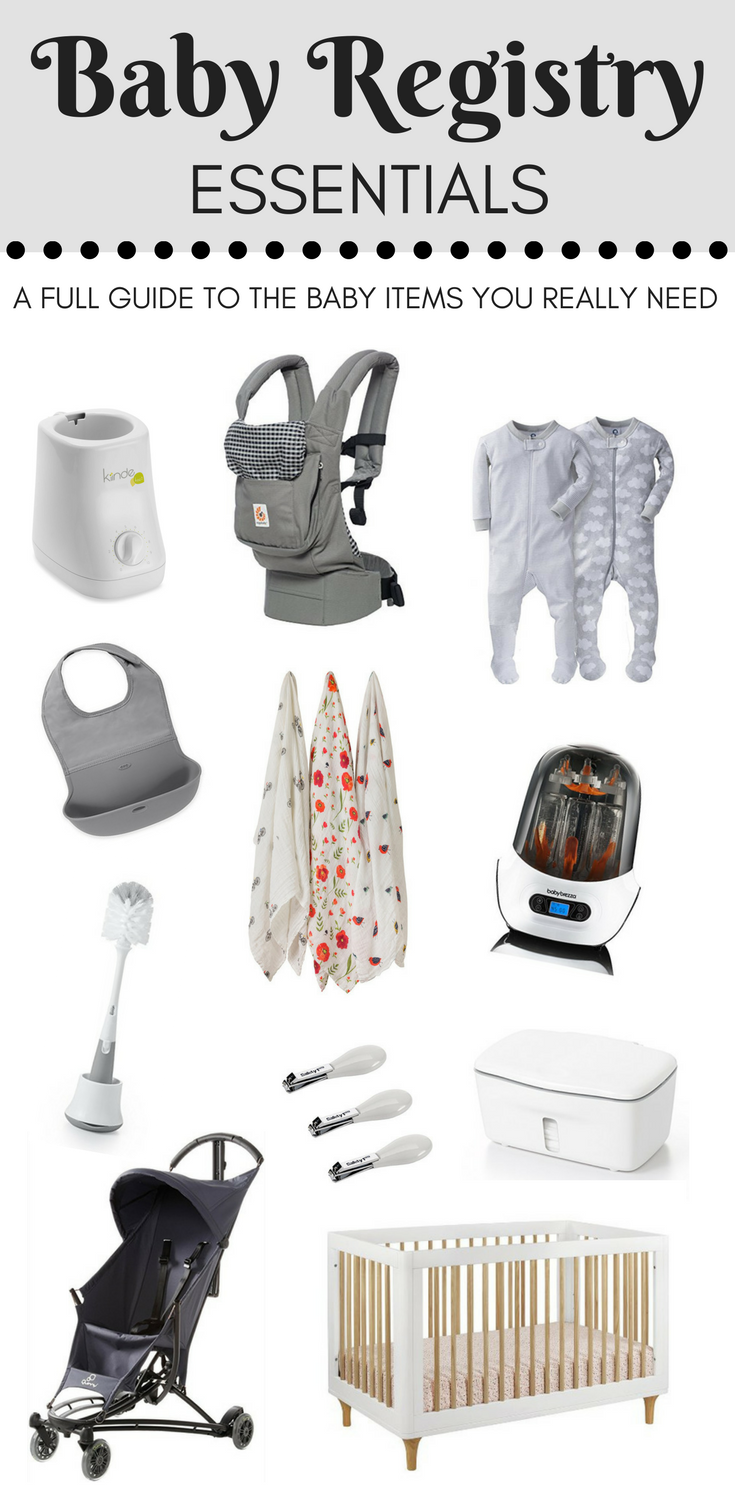 NOT REGRETS BUT NOT ESSENTIAL
EXCERSAUCER AND ACTIVITY CENTERS
Fun, but not essential, especially not for the first 6 months. Plus, they take up so much space!
LOTS OF TOYS
For babies, there is already so much to look at and listen to in the world because everything is new to them.  You don't really need a bunch of toys to keep them entertained in the first months of life.
NURSING PILLOW
I just stuffed a pillow or some blankets under my arm.
GLIDER
Might have been nice, but I found myself nursing mainly in bed or on the couch anyway.
BUMBO SEAT
By the time a baby is developed enough to sit, they don't really want to be restrained anyway.
FANCY CLOTHES
Go ahead and get a few fancy outfits for pictures or parties, but don't get too caught up in finding the perfect wardrobe for your newborn. It's tricky to dress those little floppy bodies in the first few months, and they generally go through several outfits a day.
BABY TOWELS + BATH ROBES
I never once used the little terry cloth robe I got for my son and the little towels are nice, but I found using an regular smallish, inexpensive towel was just fine.
CHANGING TABLE + PAD + COVERS
You could easily just use a foldable mat or a towel for diaper changes anywhere in the house. We do have a simple pad on top of our dresser, but stoped using the cover because you had to take it off and wash it at least daily. Now I just take an antibacterial wipe to the pad when it gets dirty.
BABY MONITOR
I might be the only mother out there that didn't rely on a baby monitor. We didn't end up needing this as we shared a room with my son for over a year and during the day, I generally didn't wander to far from him, weather he was sleeping or not.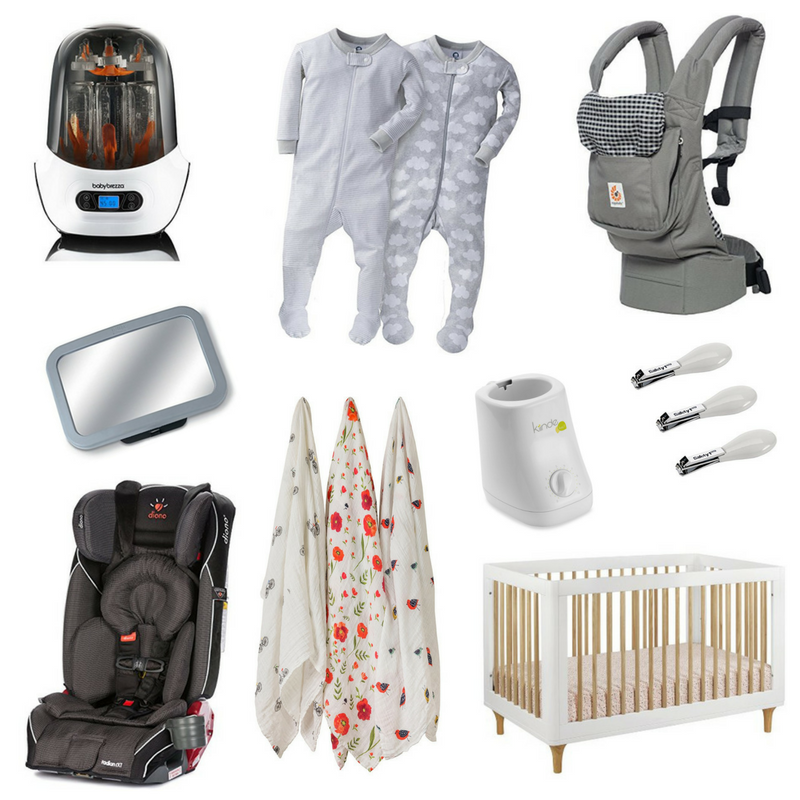 This post contains affiliate links to items I love.  If you are interested in an item and use my link to make a purchase, I will receive a small commission at no cost to you. Thank you for your support!
SaveSaveSaveSave
SaveSave
SaveSave
SaveSave
SaveSave
SaveSave
SaveSave
SaveSave
SaveSave
SaveSave
SaveSave
SaveSave
SaveSave
SaveSave
SaveSave
SaveSave
SaveSave
SaveSave
SaveSave
SaveSaveSaveSaveSaveSave
SaveSave