Over the years the business of paint and sip parties has grown and grown, yet somehow I have never been to one. While I love the idea of getting together with friends for a wine-fueled art lesson, there aren't many of these events where I live and honestly, I never liked the idea of walking away with a painting of a beach I've never been too, or something equally unimportant to me.
So when the topic came up with one of my friends we flippantly said we should just do it ourselves, and then quickly realized, we could do it ourselves. And so, with little preparation, we managed to pull together a bunch of art supplies we already had, settled on a design and set a date.
The night was perfect, and everyone went home with a piece of art that they made and that was personalized to their unique taste. Since it was in December, we went with a simple design I nick-named "Joy Tree" because the inspiration artwork included a Christmas tree with the word 'joy' scrawled across the canvas.
Another benefit to hosting your own party is that you are in a more comfortable setting, in this case it was my dining room, and you can move at a more leisurely pace. Also, you might already have most of the supplies already if you are a chronic crafter like me.
SUPPLIES:
CANVASES (we did 11" x 14") or PRE-STAINED WOOD BOARDS (ours were made by a friend but you can get store-bought).
ACRYLIC PAINTS (a variety of greens and whites for the trees, red, silver, gold, black, copper, blue, etc.)
PAINT BRUSHES (a variety including a small round stippling brush to make round bulbs, larger brushes to paint the background quickly, fine-tipped brushes for detailed work, and medium sized for painting the trees)
LEAD PENCILS
WHITE PAPER (for practice)
DISPOSABLE TABLECLOTH
SMALL DISPOSABLE PLATES (to use as a palette for paints)
MUGS OF WATER TO CLEAN BRUSHES
PAPER TOWELS
OPTIONAL:
SHARPIE PAINT PENS (These are great for painting words in cursive)
GLUE (hot glue or tacky glue)
STICK-ON RHINESTONES, PEARLS, TINY BOWS, MINI RIBBON FLOWERS, JINGLE BELLS, BUTTONS, MINI POMPOMS, ETC.
NON-NEGOTIABLE:
WINE (or a hoppy beer)
PREPERATION DIRECTIONS:
Cover a large table with the disposable tablecloth or lay down newspaper. This is where you will be painting.
Lay out all of the paint and art supplies on the table or on another large surface (we did this on my kitchen counters).
Show everyone examples of what their JOY TREE painting could look like by printing off pictures from this post, or simply pass the post around on a smart phone. '
Let your guests pick through the supplies to get the paint colors, brushes, and accessories they want to use.
PAINTING DIRECTIONS:
If painting a background color (behind the tree), paint the entire canvas that color first, then let it dry, which should only take a few minutes and can be sped up by drying with a blow dryer.
Using a pencil, lightly sketch a triangle starting at the top left corner of your canvas and trailing down to about the middle of the bottom of the canvas.
Start painting in the tree triangle on the left side of the canvas. Use a medium brush no bigger than the width of your finger to paint small swooshes moving from left to right. These end up looking like evergreen tree branches. Follow the pencil lines of the triangle to make sure your swooshes end up in the shape of a tree.
Once you have the base of your tree done, you can paint some accent branches (more swooshes) in a lighter color (like light green or white). You can also apply glitter to your tree while the paint is still wet.
Now that the tree is painted, you can glue on some accessories like tiny jingle bells, buttons, rhinestones or sequins.
You can also paint on colorful bulbs by using a small flat stippling brush. Simply dip the brush in paint, blot the excess, and stamp it down on the canvas. Without lifting the brush up, carefully twirl the brush around in a clockwise motion, creating a perfect circle of paint. Gently lift the brush directly up.
Now that your tree is done, use stencils to write out "joy" or whatever saying you want. You can also freehand it, by lightly writing your letters out in pencil and then painting over it. If you are writing in cursive like I did in my two, I recommend using a Sharpie paint pen to trace over the pencil.
All done! Now toast to your beautiful artwork and don't forget to take pictures of everyone's handywork.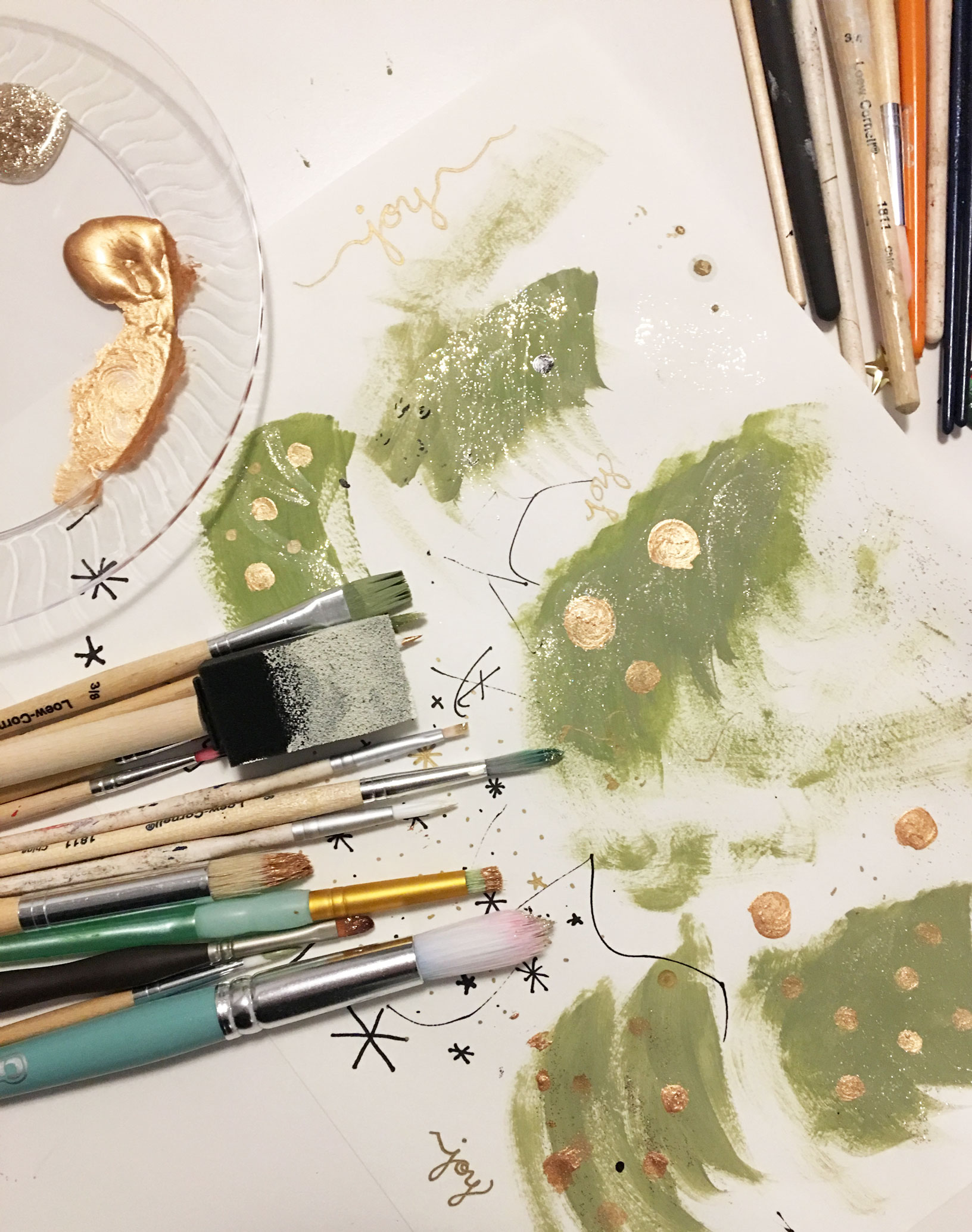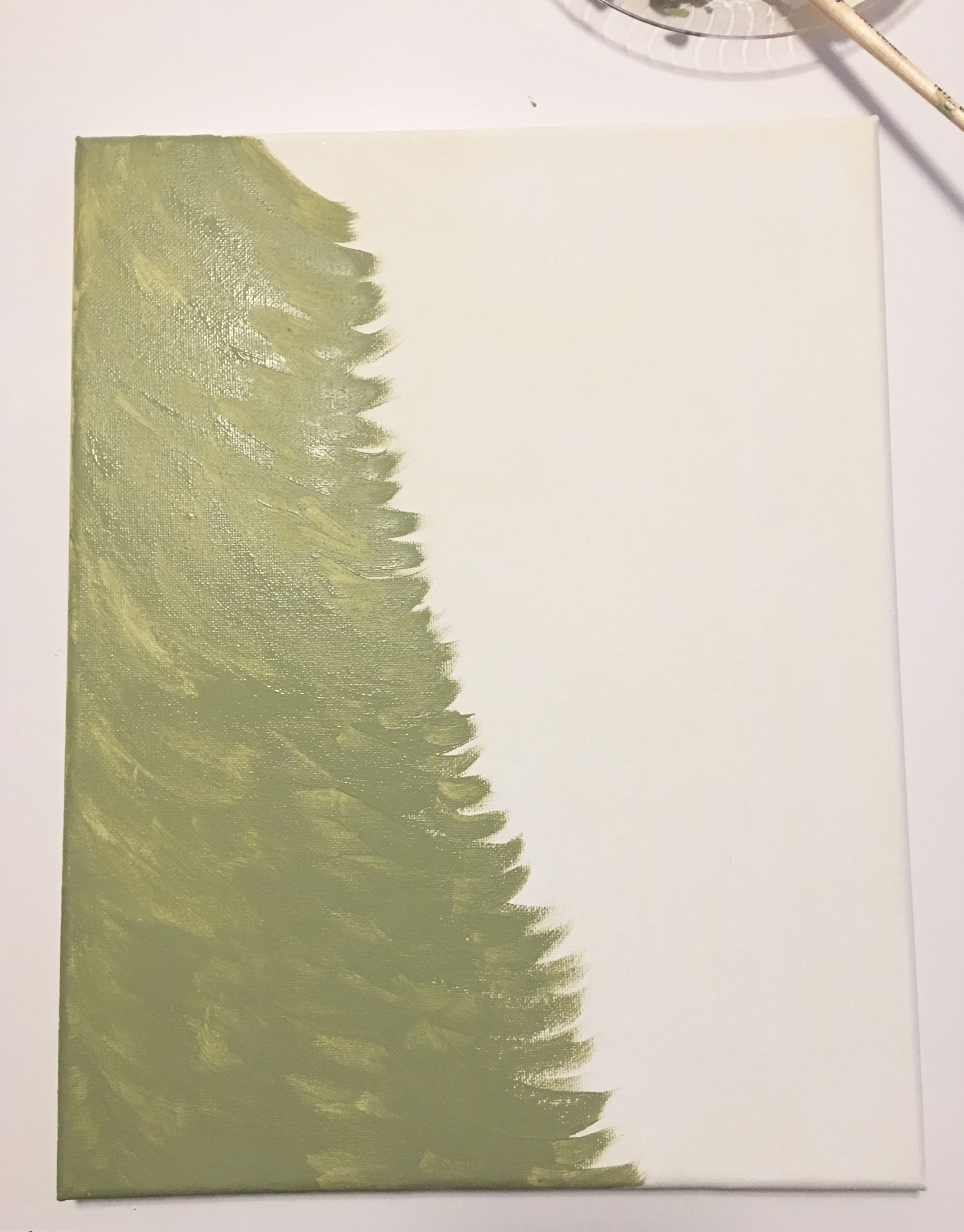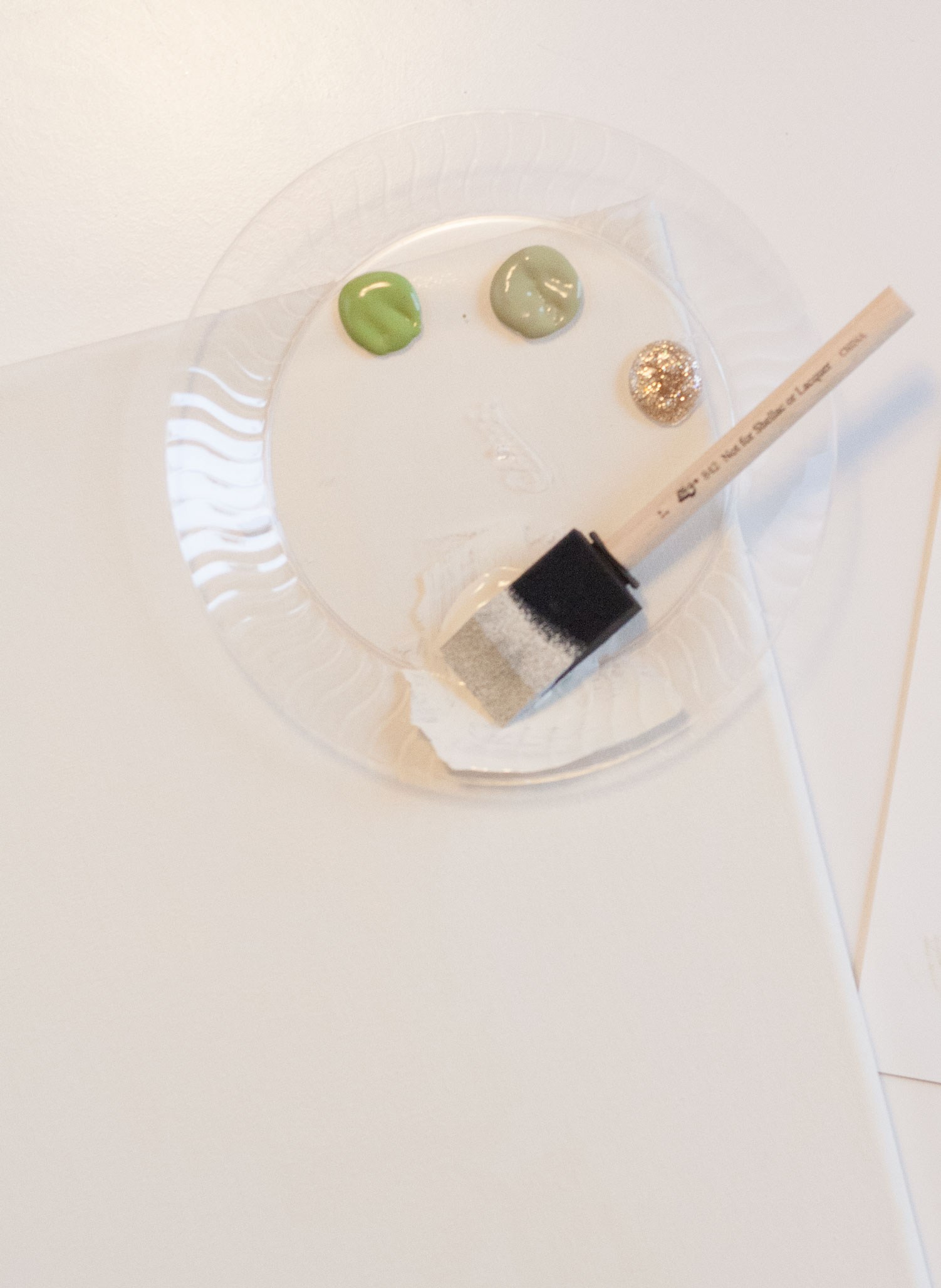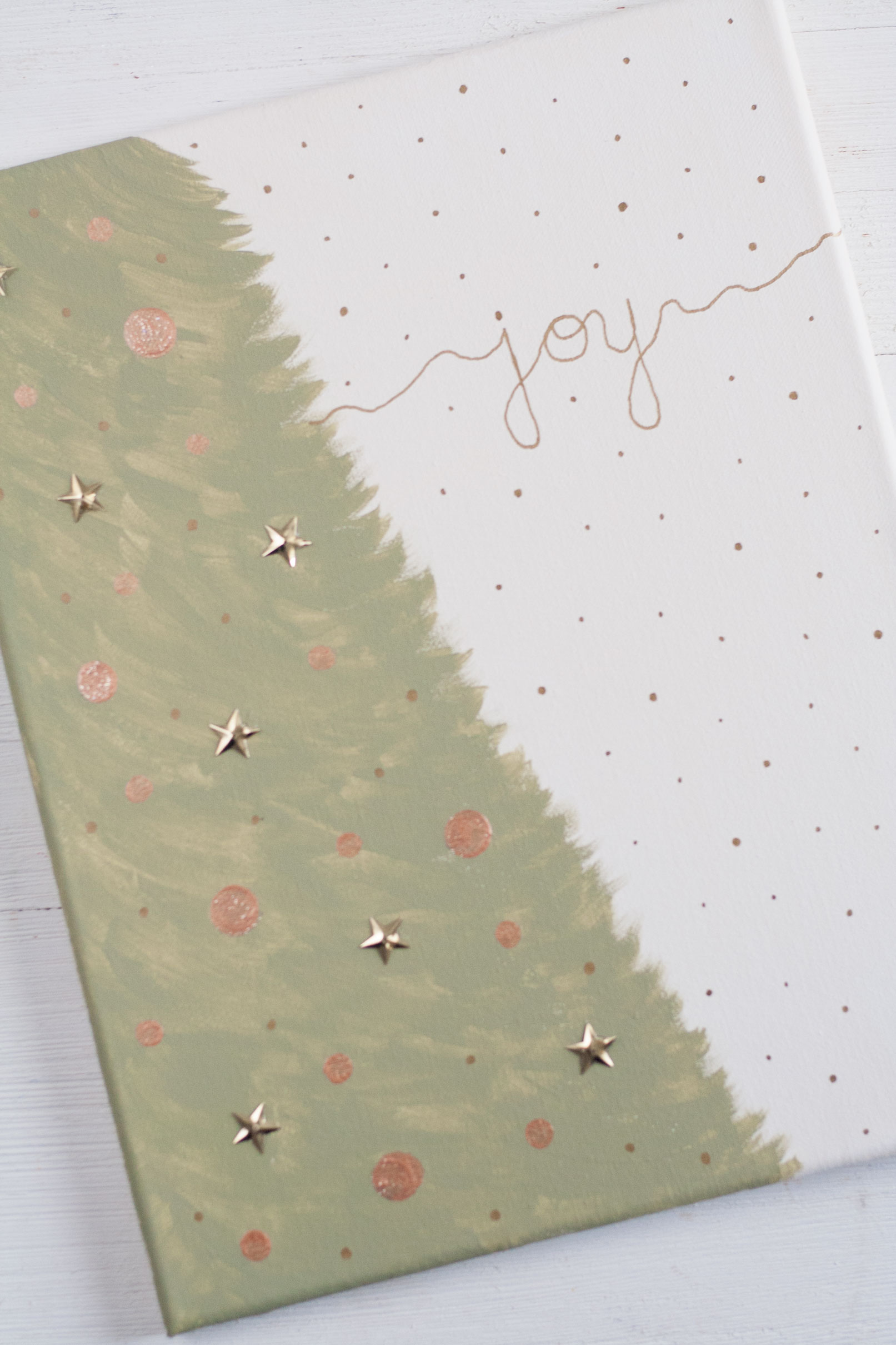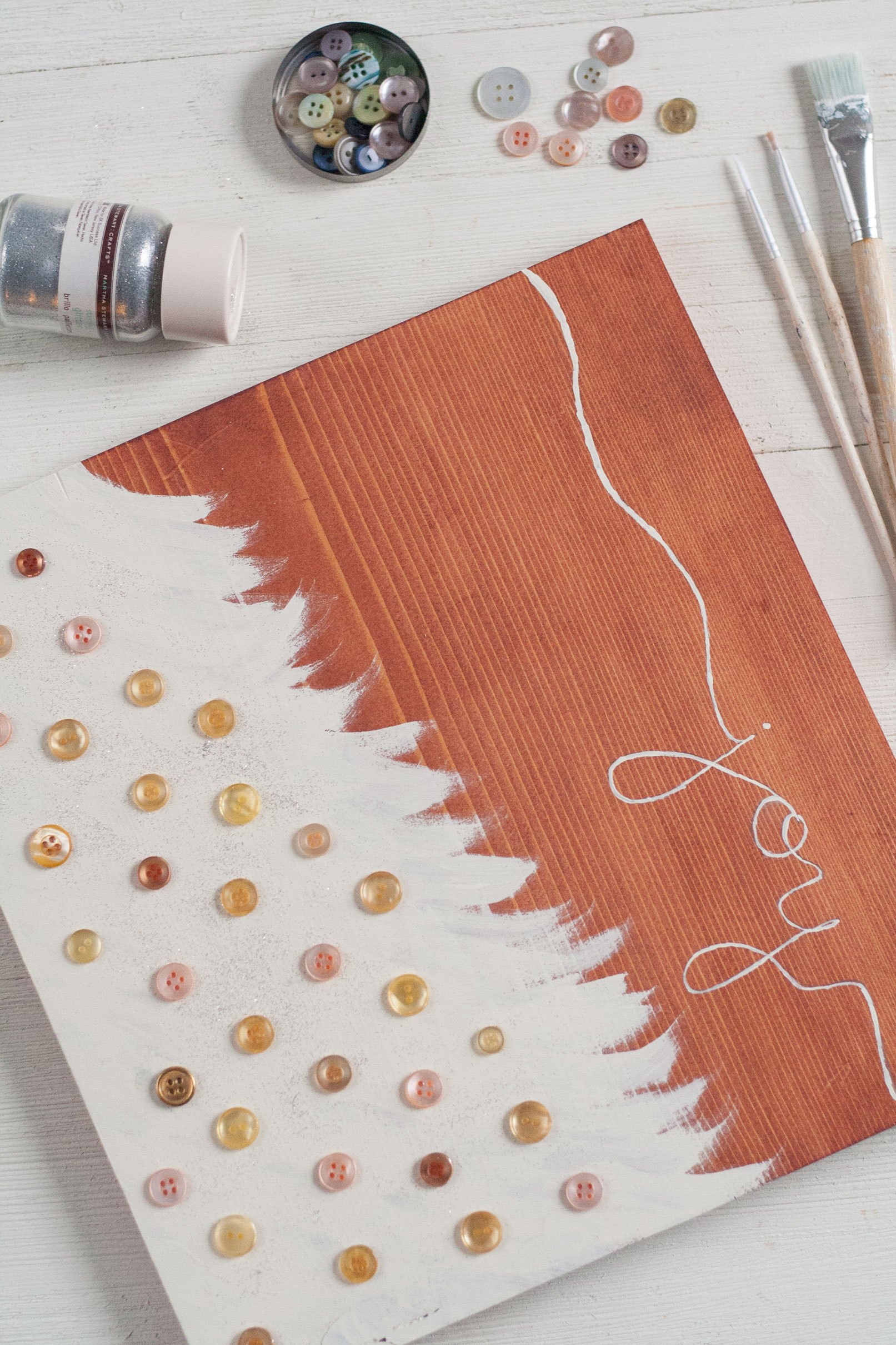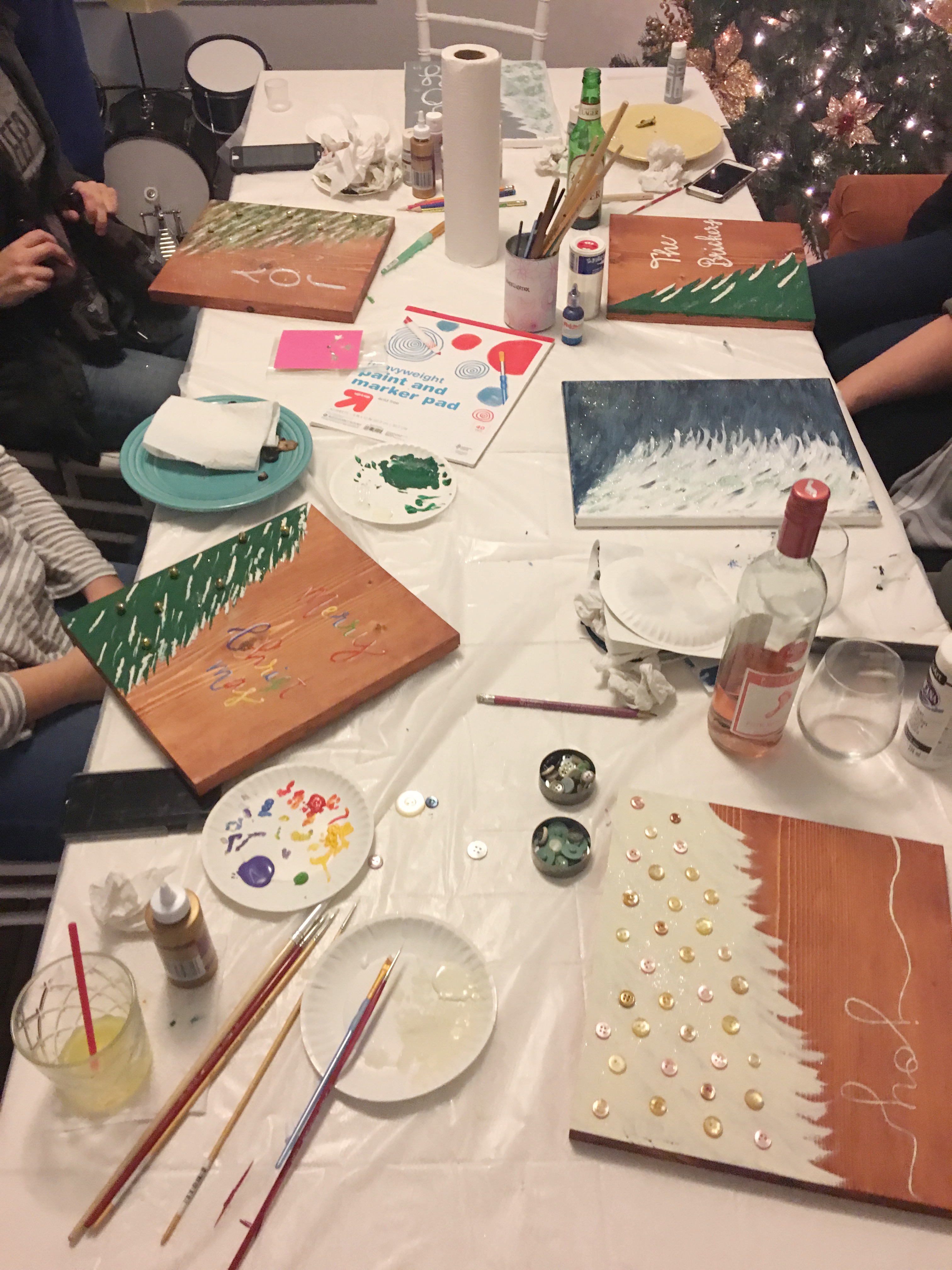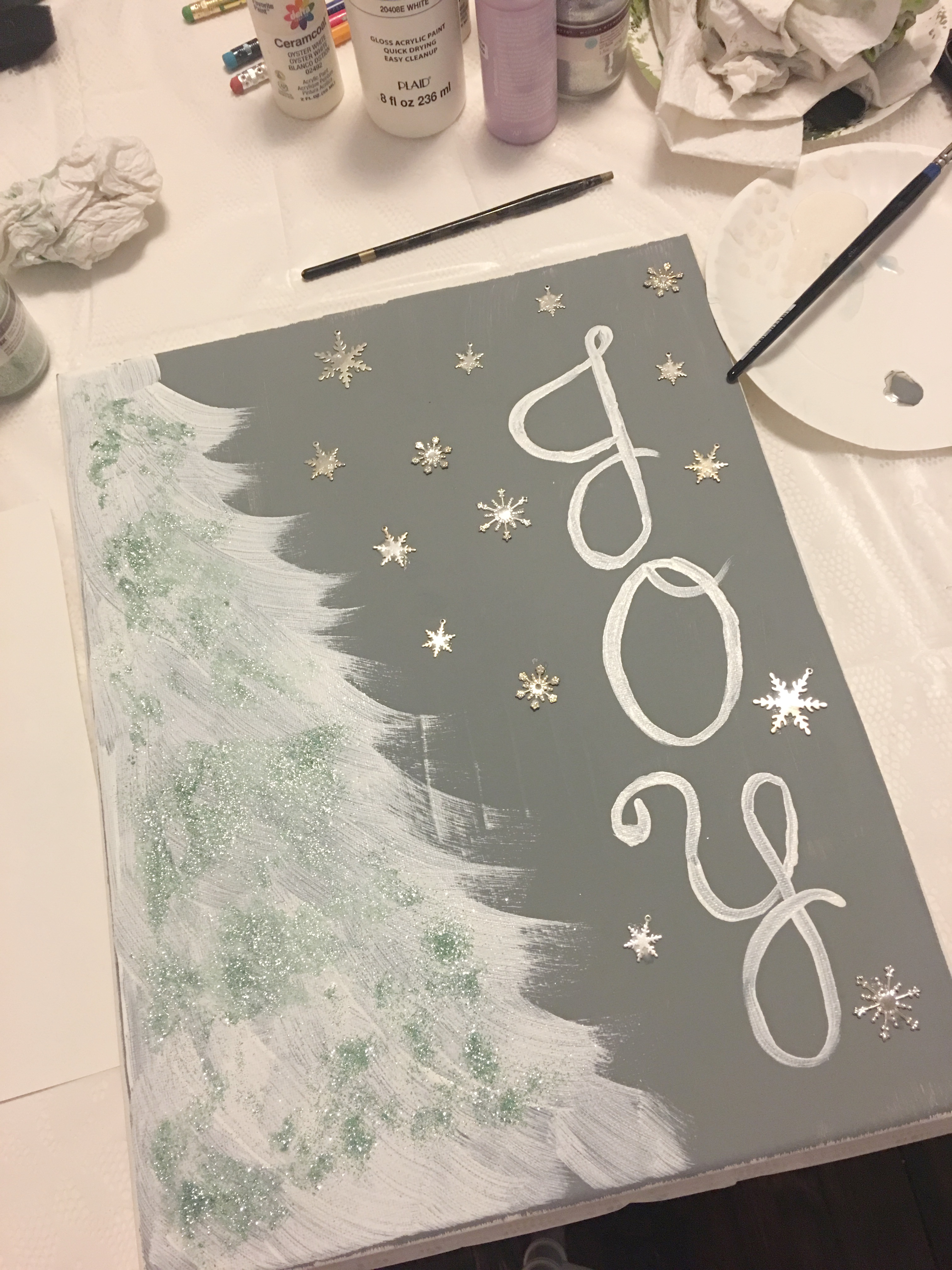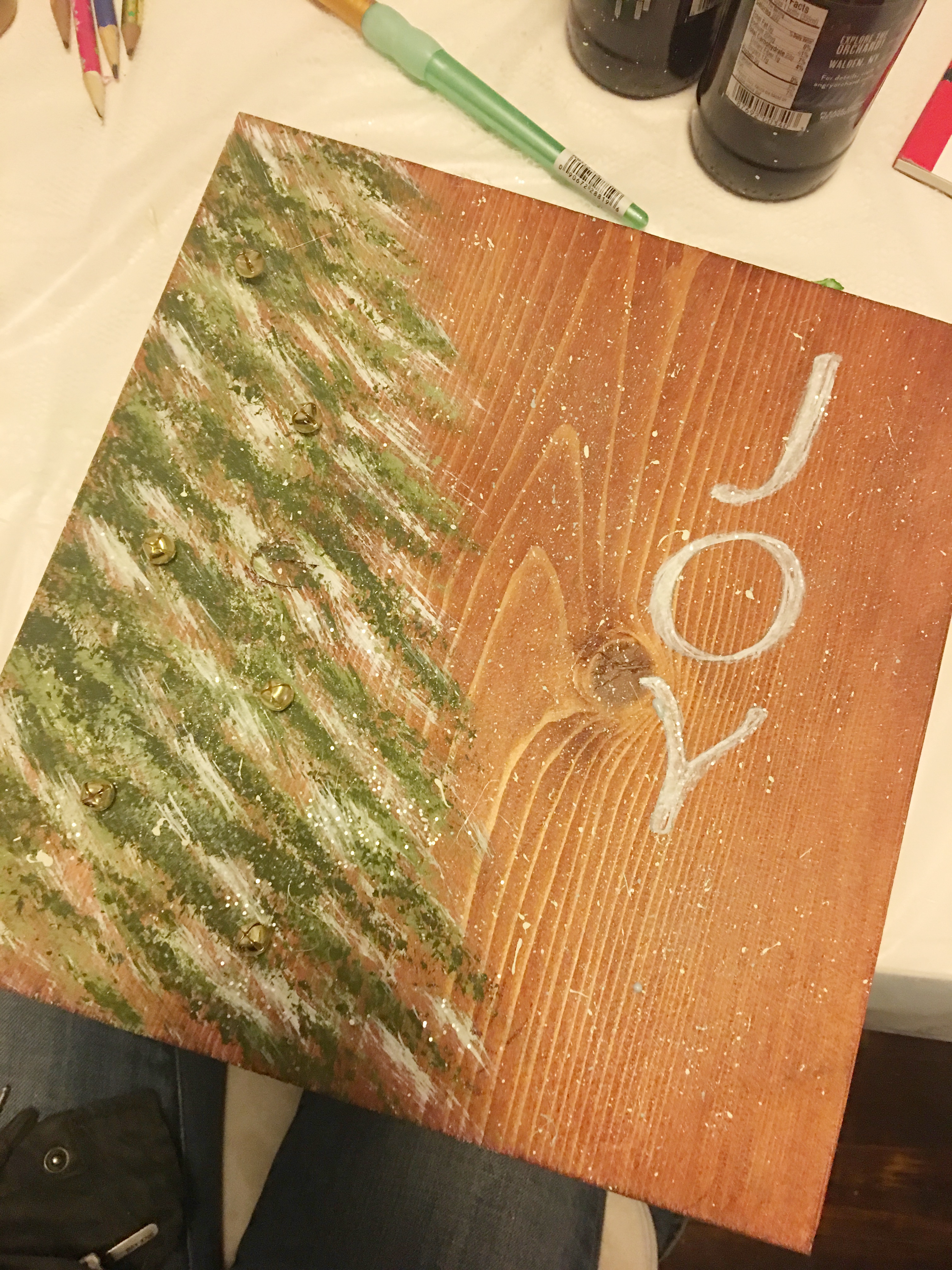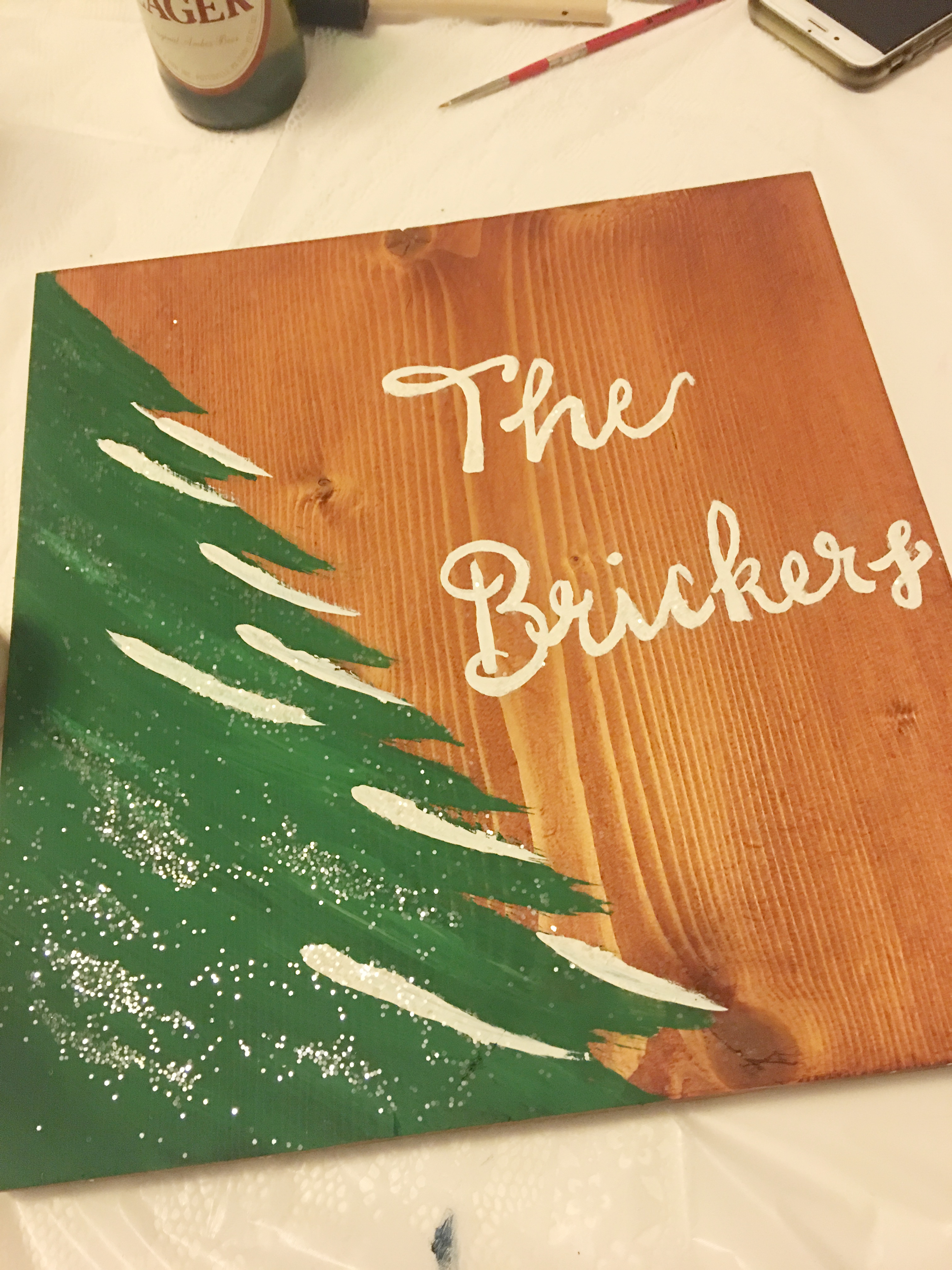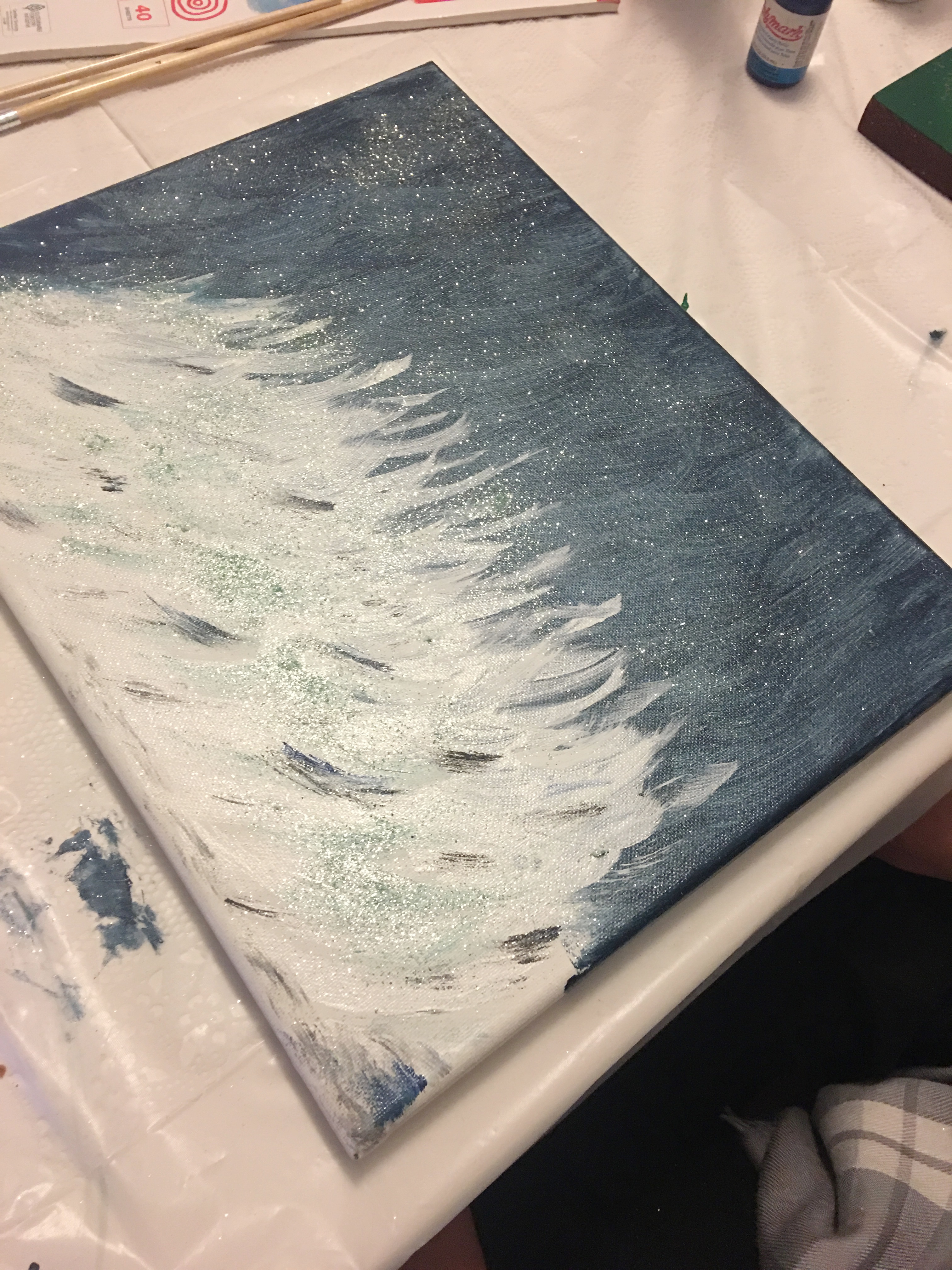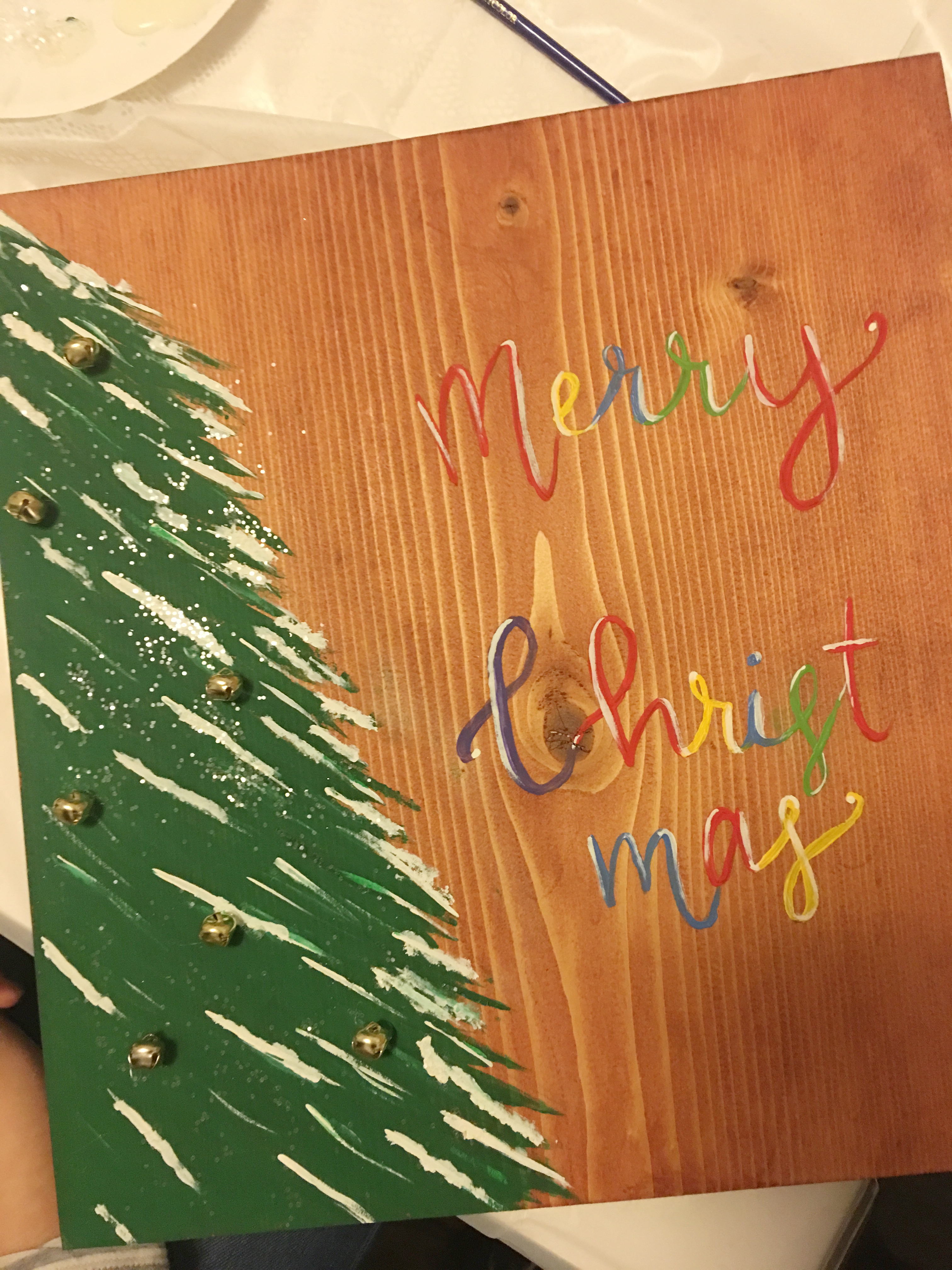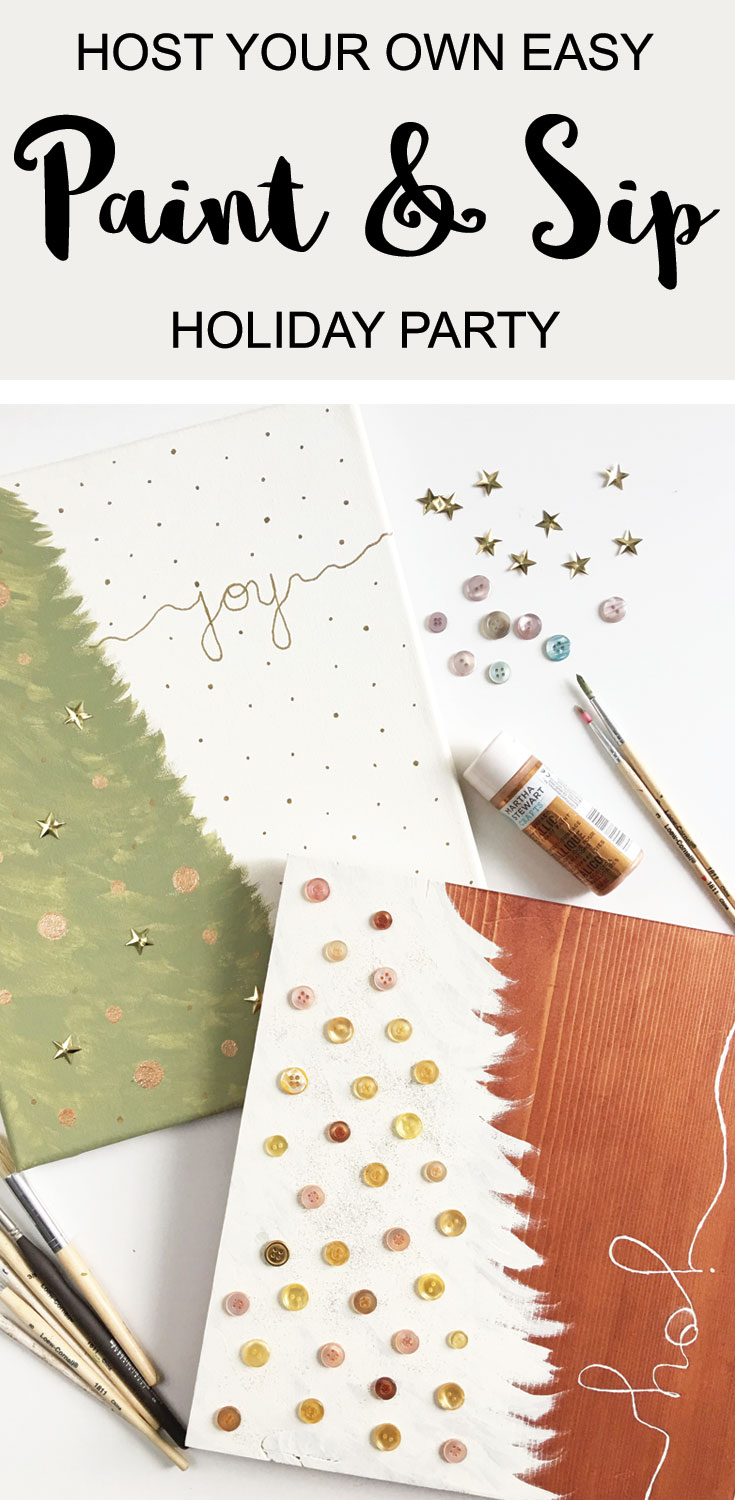 This post contains affiliate links to items I love.  If you are interested in an item and use my link to make a purchase, I will receive a small commission at no cost to you. Thank you for your support!