If you're an embellisher at heart, this quick and easy DIY PomPom Easter Basket project is perfect for you. Requiring only a simple seagrass basket, pompom trim, loose pompoms and the handywoman's secret weapon (hot glue), these adorable baskets are a cinch to make and endlessly customizable. Or, you know, customizable to the extent of the pompom offerings at your local craft store.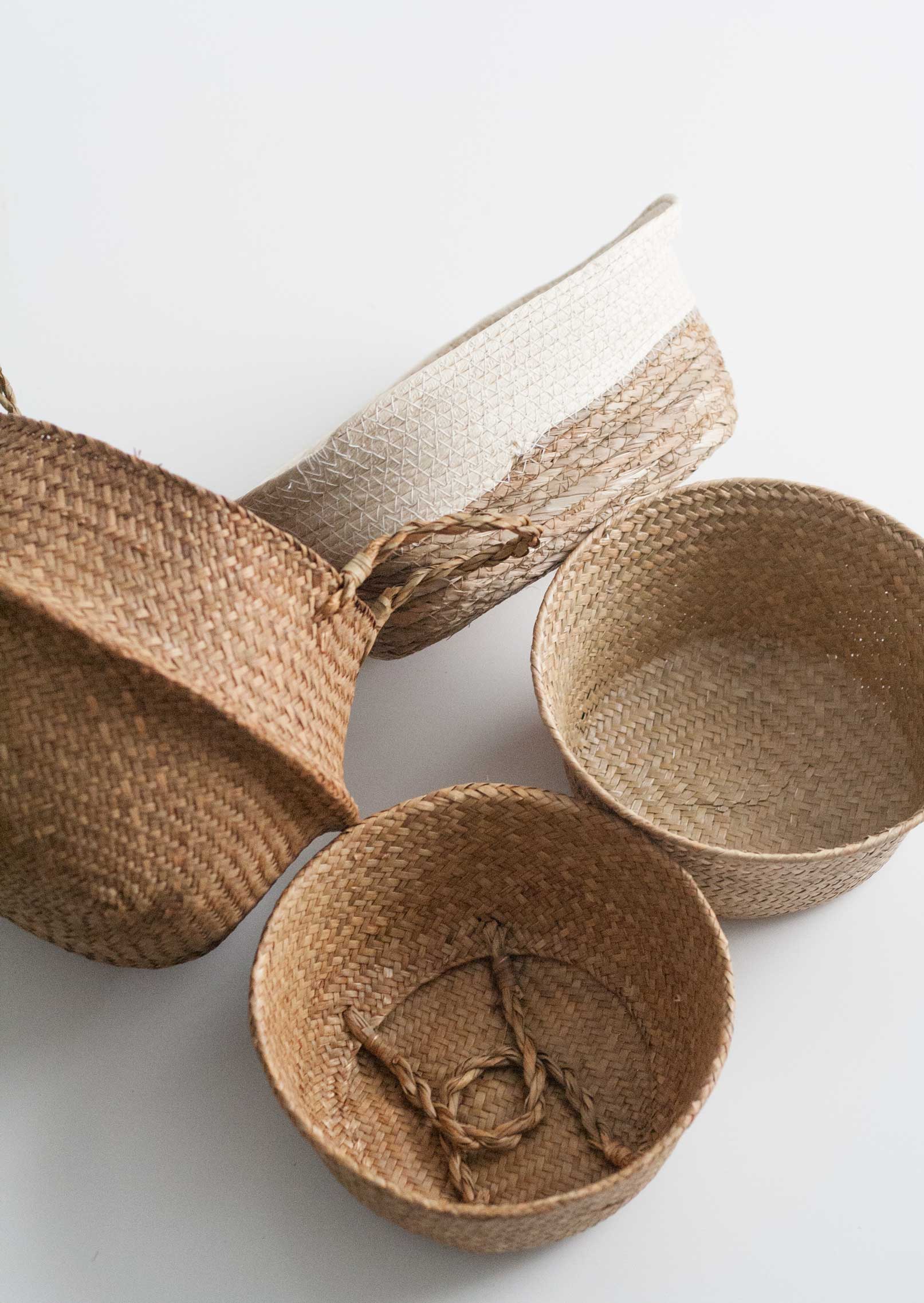 To begin, find yourself a lovely natural seagrass-type basket. I found a simple round one for about $6 at Joann Fabrics in the basket section, and y'all know you can't buy a single thing in there without one of the 18,000 weekly coupons they send out. So it was really about half that price. The oval two-toned basket with handles is a basket I found in the Spring décor aisle of my local Dollar General Store for about the same price. Finally, my favorite baskets of the moment are these fetching "Belly Baskets." I have them all over my house, holding all sorts of treasures, because they are so darn cute, and because I might have a basket fetish.
What's super neat about Belly Baskets is that they are collapsible so you can use them at two sizes: one, with the top and handles extended up and two, with the top collapsed into the bottom half of the basket, making it about half of its full height and easier to see and access all of the contents inside. This project won't affect that feature and you can still collapse and unfold the basket as you wish. I got mine from Amazon in size Small and Medium. They are also available in colors too. Ikea also sells seagrass Belly Baskets as does The Container Store.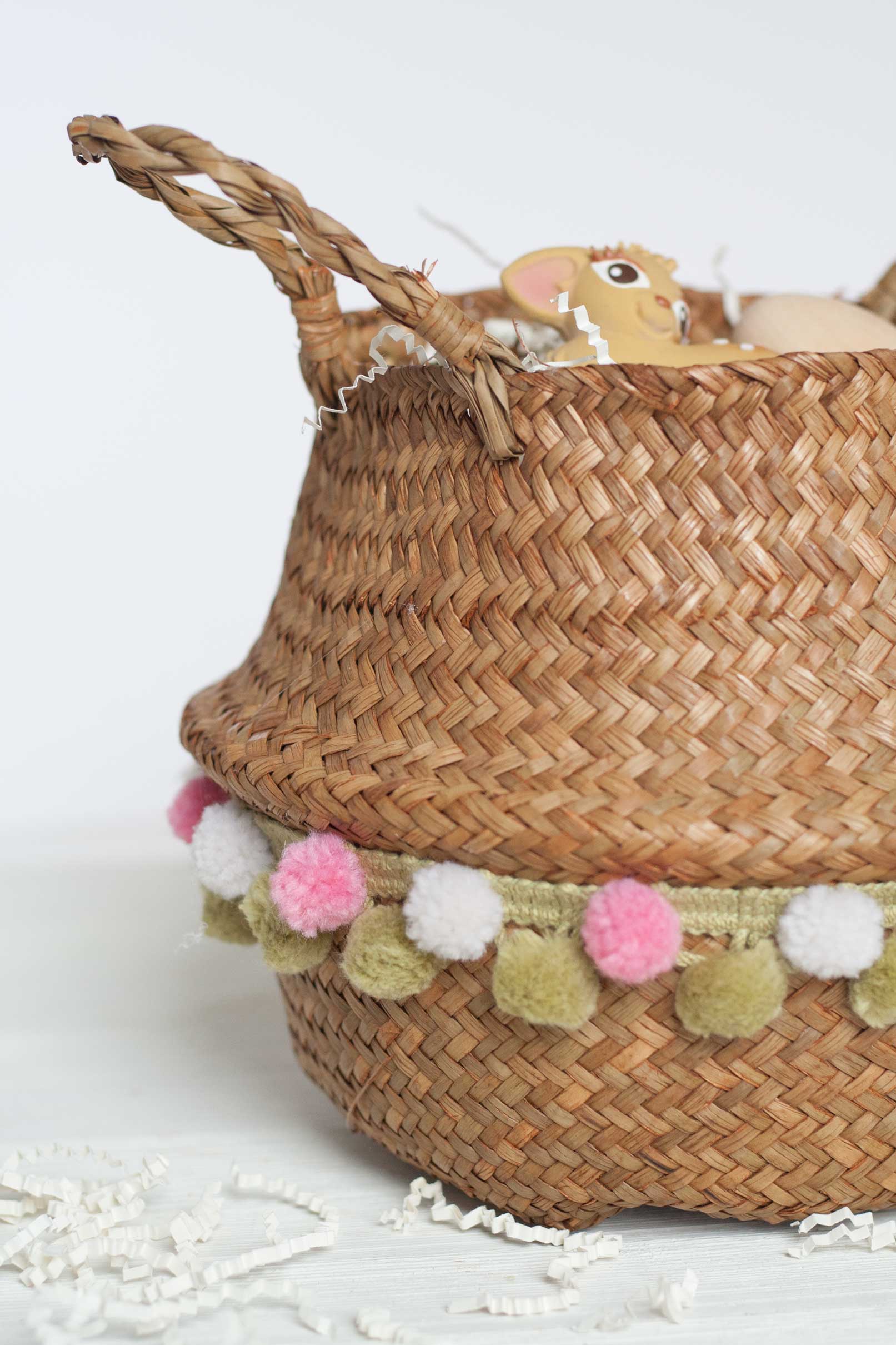 As for the pompoms and pompom trim, I sourced mine in person at our hometown Joann Fabrics. The trim is about 1-3/8" and you purchase it by the yard. It should be located amongst the bolts of fabric, in the trim aisle. It's also goes by the alias "Ball Fringe" should you need to know that information. Actually, it's much cheaper at the end of the day to buy it on Amazon but you end up with 9 yards for just over $1 a yard. You need about 1 yard to 1-1/4 yards of trim per basket, depending on its size. I bought mine for about $5 a yard at Joann.
The loose pompoms aren't just any old pompoms. They are tiny Yarn PomPoms and have a more natural look and feel that your typical cheap neon variety. Unfortunately they appear to be seasonal, so get them while you can! I found mine in the seasonal aisle of Joann Fabrics but you can also grab them on the Joann Fabrics website.
SUPPLIES
SEAGRASS BASKET (see alternate sourcing recs above)
POMPOM BALL FRINGE, about 1-1/4 yards per medium basket (also available in store at Joann).
YARN POMPOMS, ½" diameter
GLUE GUN
GLUE STICKS
DIRECTIONS
Using a hot glue gun, dot some glue on one end of the ball fringe and adhere to the basket either in the center or directly under the rim of the basket.
Continue gluing the ball fringe onto the basket, applying glue to small sections of the trim then pressing it firmly to the basket in a straight line until the trim goes all the way around and meets the first end. Trim off the excess.
Apply a small dot of glue on the upper part of the trim, centered between two of the hanging pompoms, then place a single yarn pompom on the glue dot. Continue doing this for every upper slot section or every-other section, alternating pompom colors if desired, until you reach the other side.
Fill with Easter treats and present to adorable children on Easter morning.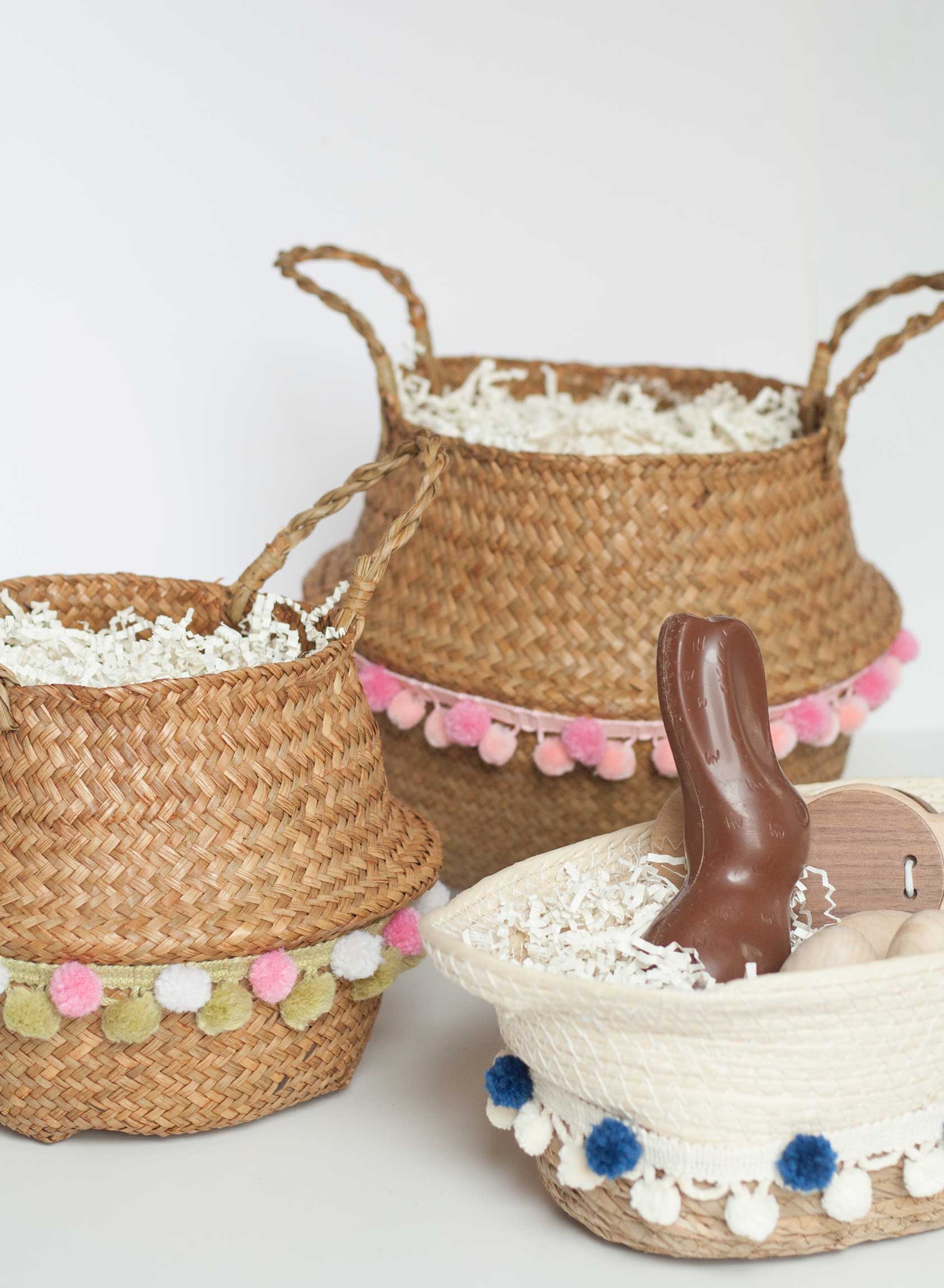 What I like most about this PomPom Easter Basket project is that nothing screams "Easter" about it. There's no bunnies or chicks involved in the design so you can use these sweet baskets around your home year round. Keep them in your kids room to corral small toys like blocks, cars, or figurines. If you're going with the Belly Basket, try putting a potted plant inside of the basket to hide the ho-hum plastic planter.
Really, I don't think you need me to tell you how to use a basket, because they are infinitely useful. What do you think about this project though? Are you inspired to make your very own PomPom Easter Baskets? Let me know. I always love hearing from you! Don't forget to share this post on social media or pin it to your Easter Pinterest board!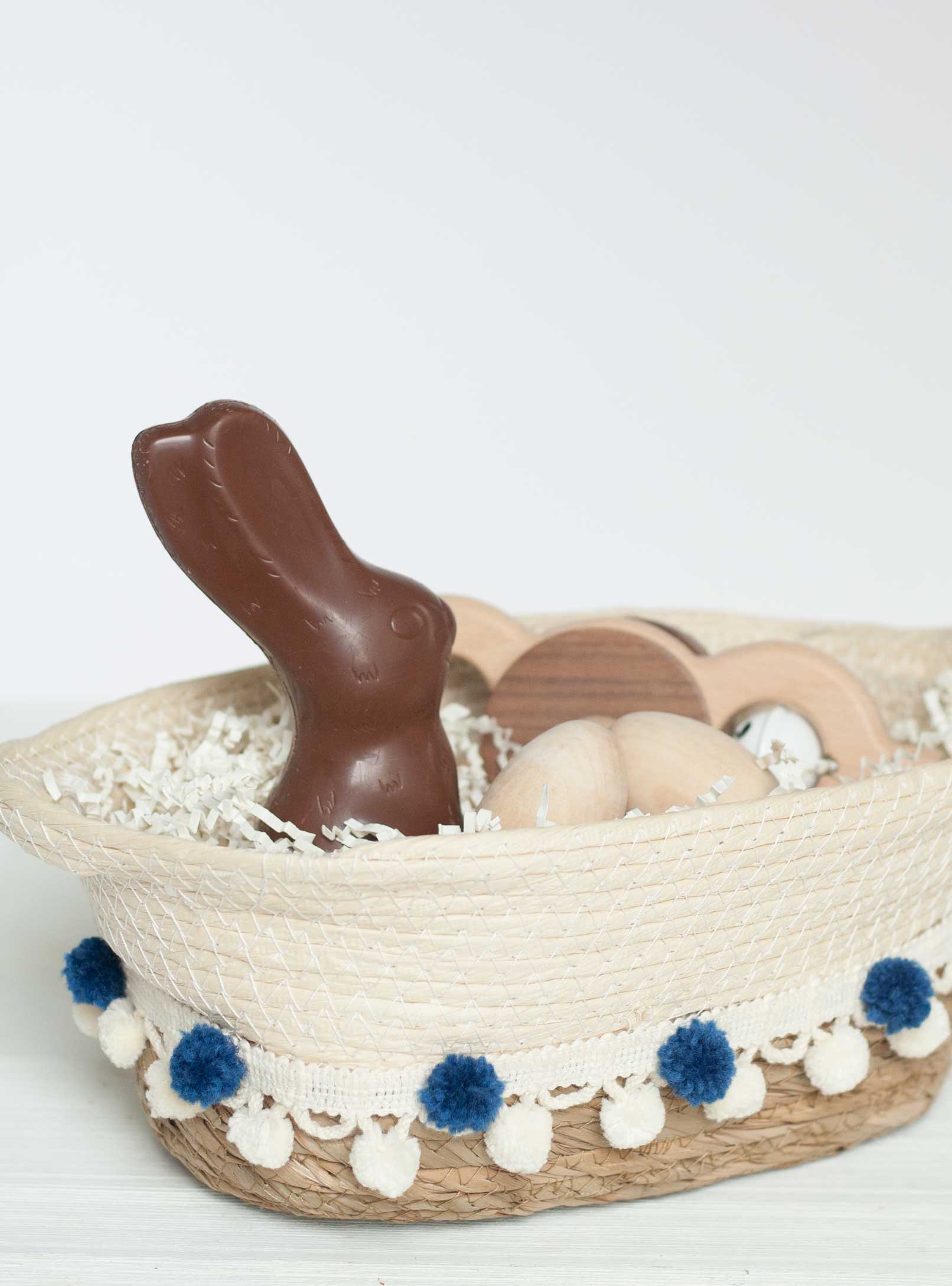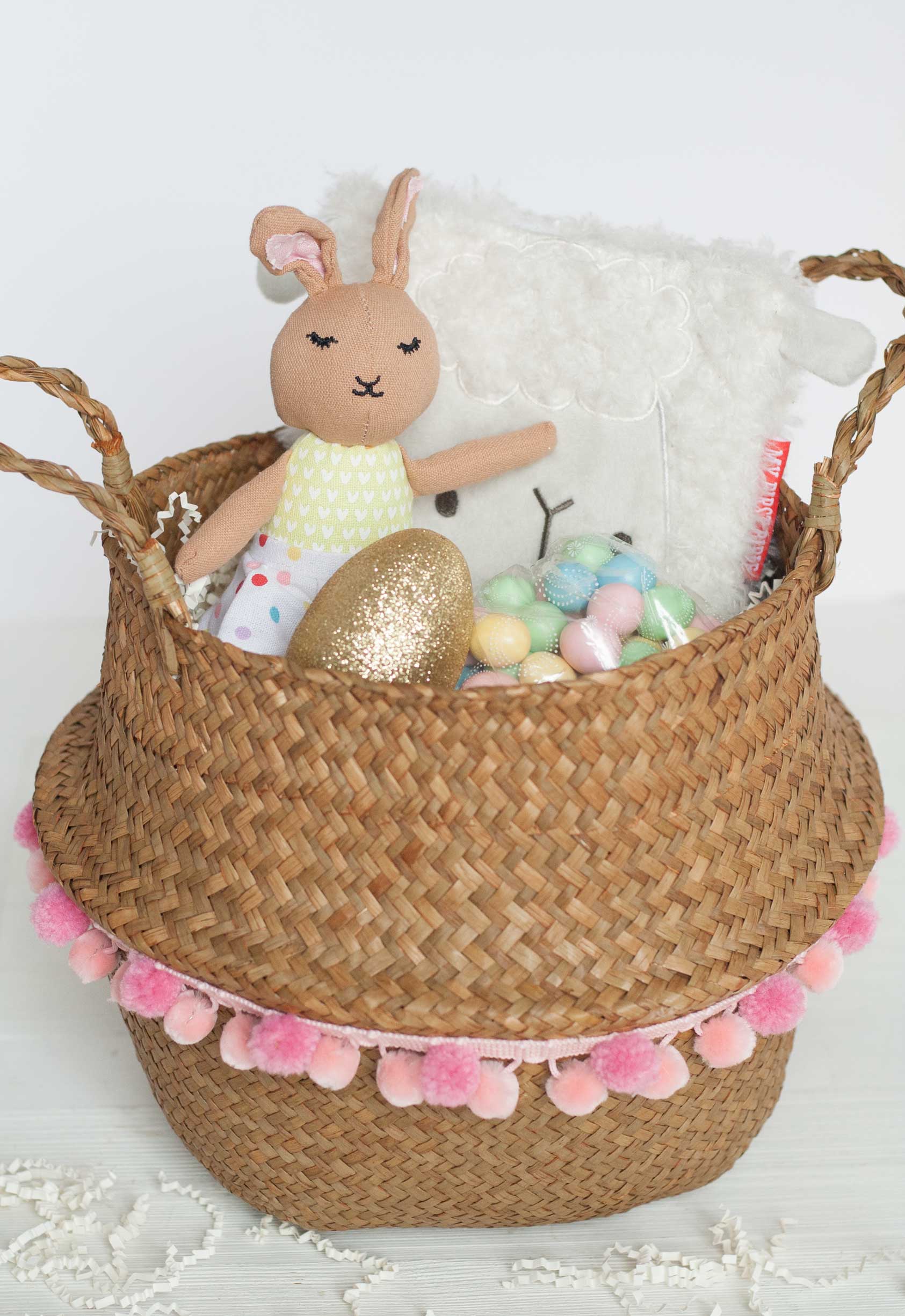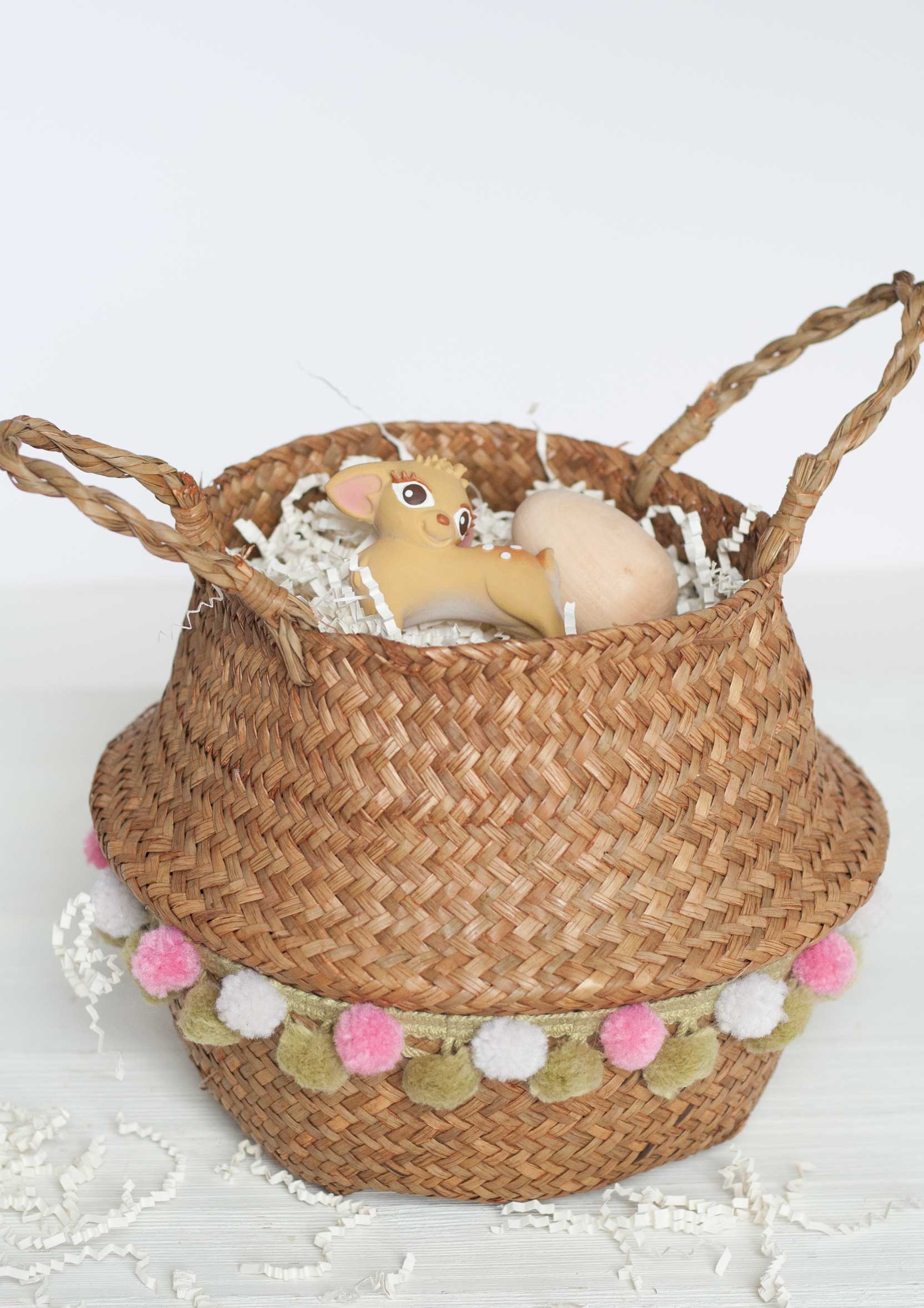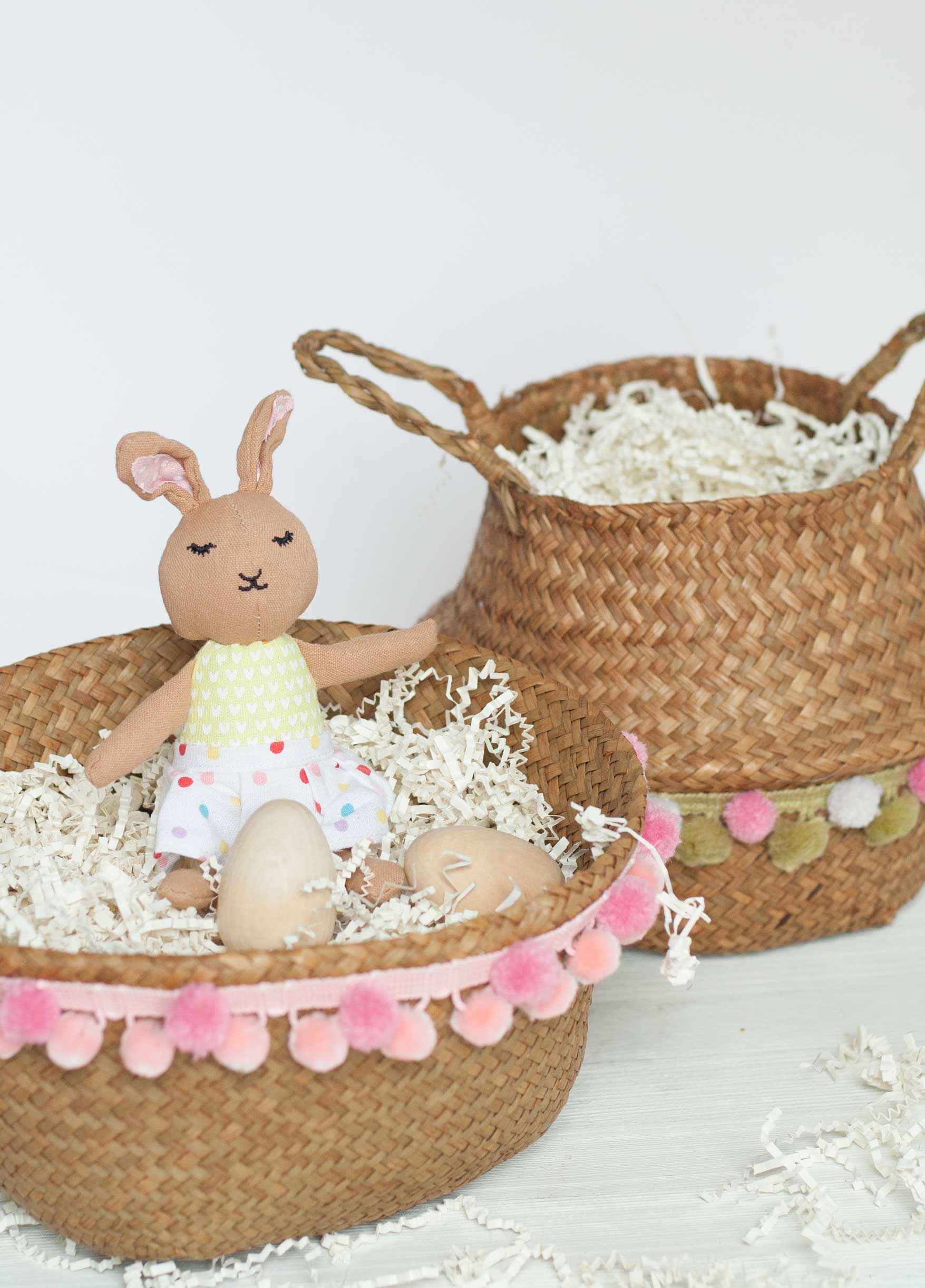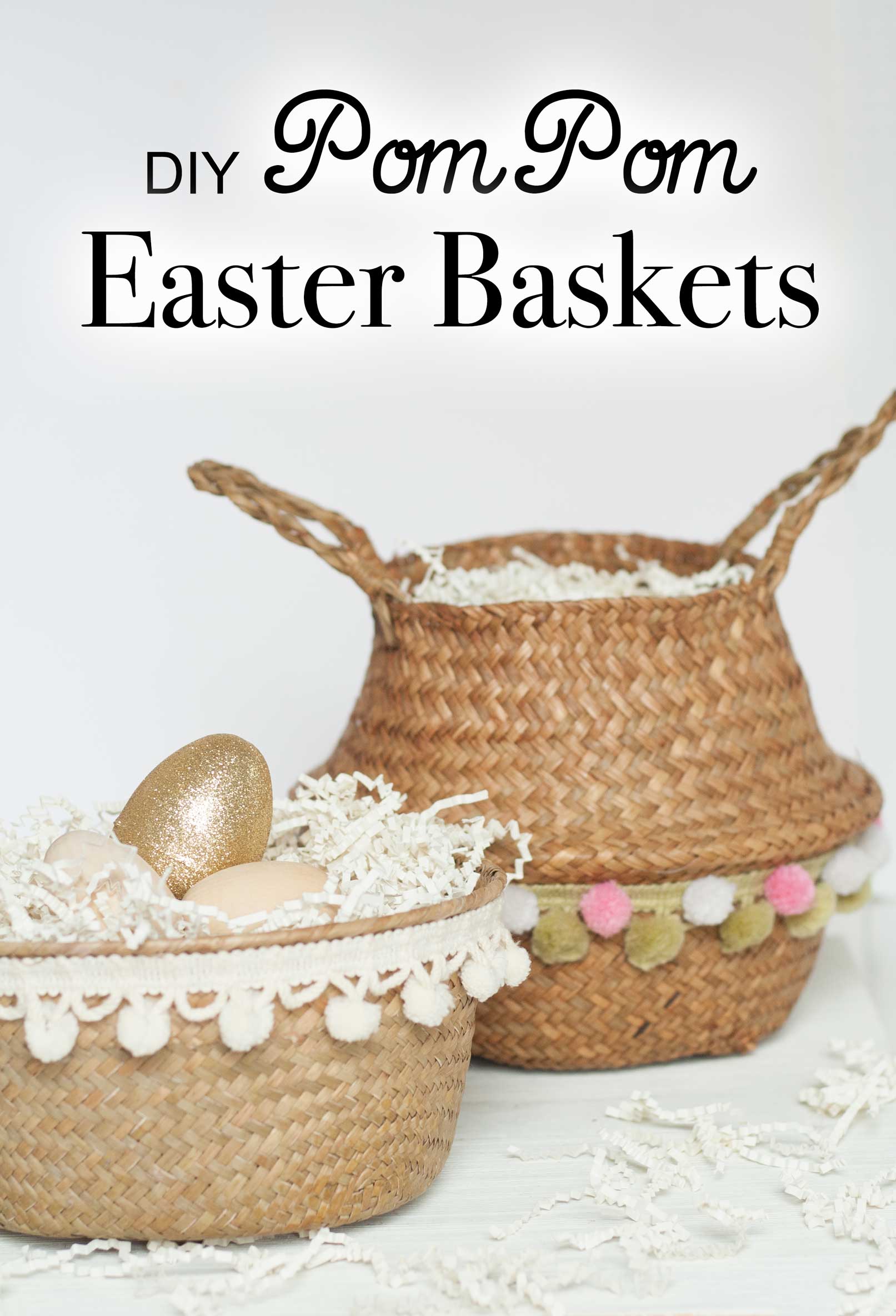 This post contains affiliate links to items that I love.  If you are interested in trying these products too, and you click on the links I have provided to make a purchase, I may earn a small commission at no expense to you.